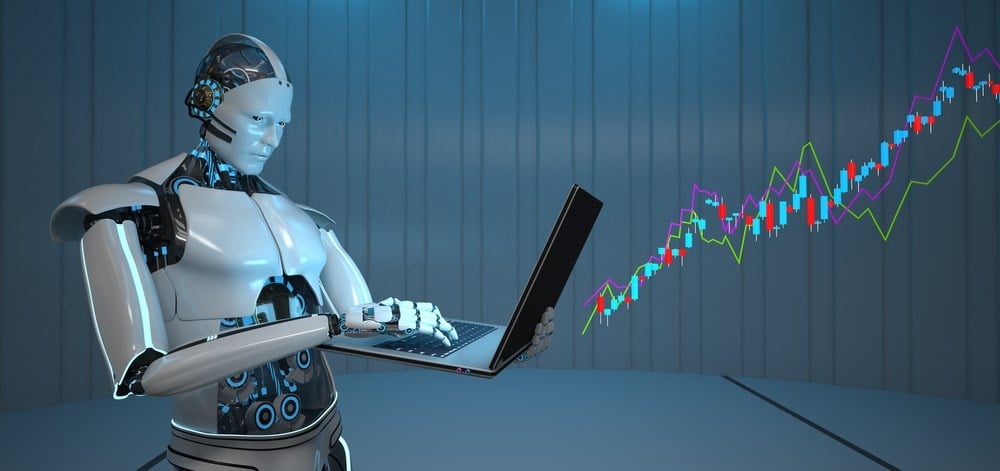 Looking for the best AI stocks to buy now? You might have to get in line — artificial intelligence is one of 2023's hottest market trends, and several companies in the industry have already seen massive growth. And when parabolic moves occur, finding artificial intelligence stocks under $20 or $10 can be challenging.
However, some cheap AI stocks are still out there, but you might need to look in unfamiliar corners of the market to find them. In this article, we'll discuss why AI has taken over the stock market and list our favorite companies that won't break your brokerage account. But first, let's dig into a bit of market history.
Overview of Artificial Intelligence (AI) Stocks
Each year, a new investment theme takes markets by storm. In 2019, tech was the big winner, with chip makers like AMD Micro Devices Inc. (NASDAQ: AMD) and Lam Research Corp. (NASDAQ: LRCX) scoring the most significant gains. In 2020, it was the year of blockchain as dozens of small and microcap companies threw "Bit" or "blockchain" into their names and saw parabolic gains. The meme stocks like GameStop Corp. (NYSE: GME) stole headlines in 2021, while inflation was the main focus of 2022. 
So far, the central theme of 2023 has been artificial intelligence, with NVIDIA Corp. (NASDAQ: NVDA) leading the way as the consensus best AI stock. Interest in AI exploded when ChatGPT hit the internet, and now many companies want to add AI tools to their platforms. AI has proven helpful in assisting clients in various sectors and industries, such as robotics, healthcare, automobiles and even wealth management (just ask the robo advisor which AI stocks to buy!)
But with share prices getting overextended and momentum slowing down, large-cap stocks like NVDA might be getting ready to take a breather. However, AI optimism is still high, and a few under-the-radar stocks could offer upside. And if you're a retail investor with a smaller account balance, you might be more interested in taking big swings at AI companies under $10.
Why Invest in AI Stocks?
To successfully trade the best artificial intelligence stocks under $10, you'll need to understand the risk and rewards of such an investment. AI is an exciting industry with the potential to simplify people's lives worldwide. For example, ChatGPT can analyze enormous data sets and produce results in different mediums like text, images or video. For a researcher, this is hours of tedious and time-consuming work performed in an instant, freeing up time for more productive tasks.
A few other reasons to invest in the top AI stocks include: 
Massive expected growth:

According to an analysis from

Next Move Strategy Consulting

, the global AI market is expected to grow to over $1.8 trillion by 2030, representing a compound annual growth rate (CAGR) of nearly 33%.

Helpful in many industries:

Private investments in AI technology have exploded in many sectors. Global industries like healthcare, data management and processing, fintech and cybersecurity each

invested $5 billion or more

in AI technology and products in 2022.

Quick adoption rates:

The machines might come faster than anticipated. According to a 2023 Statista survey,

over a quarter

of young working professionals (Gens X, Z and millennials) reported using generative AI tools like ChatGPT at their jobs. 
8 Best Artificial Intelligence Stocks Under $10
Here's our list of the best AI stocks under $10 that can be purchased now. But it's important to note that stocks with share prices under $10 tend to be small or microcap companies, which usually means volatility. Consider your goals and risk tolerance before investing or trading with this AI stocks list. 
Can you stomach a 20% or 30% drawdown? If not, small-cap stocks focused on AI implementation may not be the best subsector for your capital.
| | | | |
| --- | --- | --- | --- |
| Company | Industry | Market cap | Average price target |
| Nio Inc. (NIO) | Electric vehicles | $19.6 billion | $13.31 |
| FiscalNote (NOTE) | Business services | $383.7 million | $8.35 |
| SoundHound (SOUN) | Software | $518.5 million | $4.35 |
| Nerdy Inc. (NRDY) | Education services | $708.4 million | $5.67 |
| Rekor Systems (REKR) | Software | $209.6 million | $3.88 |
| Lantronix (LTRX) | Computer equipment | $143.2 million | $9.33 |
| AudioEye (AEYE) | Software | $55.7 million | $9 |
| Lantern Pharma (LTRN) | Pharmaceuticals | $50.1 million | $11 |
1. Nio Inc.
Electric vehicle manufacturers are considered some of the best AI companies to invest in. While Tesla Inc. (NASDAQ: TSLA) often steals the headlines, smaller Chinese manufacturer Nio Inc. (NYSE: NIO) is gaining traction domestically and abroad in the United States and Europe. The company has three main product lines: sports cars, SUVs and sedans. Nio produces smart vehicles, which blend traditional and autonomous driving features, and is currently developing a fully autonomous station wagon called the Eve. 
With a market cap of over $19 billion, Nio is the largest company on our list and recently passed the 200,000 vehicle sales mark. Analyst consensus currently has a "hold" rating on the stock, but the average price target of $13.31 represents an upside of more than 16%. NIO shares are our top choice for AI stocks under $10.

2. FiscalNote Holdings Inc.
FiscalNote Holdings Inc. (NYSE: NOTE) is a small tech firm with about 700 full-time employees, but its products and services serve a vast network of Fortune 100 companies, law firms and government agencies. FiscalNote uses AI, machine learning, analytics, and peer research to help clients manage policy and regulatory developments, keep up to date on current news and events and organize advocacy campaigns. Its suite of tools can tailor toward federal, state and local governments and businesses of all sizes and scope. Analysts favor the stock with six "buy" ratings versus one "hold," and both company insiders and institutions have been accumulating shares over the last 12 months.

3. SoundHound AI Inc.
SoundHound AI Inc. (NASDAQ: SOUN) is a Santa Clara-based tech firm that uses AI applications for voice-enabled products. The company's primary product is the Houndify system, which enables customers to construct conversational AI voice assistants. You can customize these voice assistants based on automatic speech recognition and embedded solutions. SoundHound has a buy rating from the only analysis firm covering it (Canter Fitzgerald), and institutions have gobbled up over $100 million worth of shares in the last 12 months, which is significant for a company with a market cap under $500 million.

4. Nerdy Inc.
Nerdy Inc. (NYSE: NRDY), an online learning platform using proprietary AI technology to create a marketplace for learners and educators. Nerdy's system matches students, parents and other users with tutors, instructors and other education professionals. Nerdy has over 3,000 lesson subjects and a variety of styles, such as one-on-one tutoring, small groups or large virtual classrooms. Four stock analysts increased their price targets on NRDY shares in August, with an average upside of 36.4% over the current market price. Institutions have acquired shares over the last 12 months, with new inflows totaling $145 million.

5. Rekor Systems Inc.
Maryland-based Rekor Systems Inc. (NASDAQ: REKR), one of the latest AI stocks to watch, uses AI technology to address transportation management and public safety challenges. Rekor has several different products to offer large municipalities, including the Rekor One intelligent roadway platform and Rekor Command, which provides applications to traffic centers, first responders and freeway patrol units. Rekor Systems was incorporated six years ago but has already garnered institutional attention and accumulated a market cap of $200 million.

6. Lantronix Inc.
Lantronix Inc. (NASDAQ: LTRX) uses AI-powered computer equipment and software to supply solutions for the Internet of Things (IoT). Clients can use this technology for remote environmental management through video surveillance, robotics, traffic management and edge computing. Based in Irvine, California, Lantronix serves customers in the United States, Europe, the Middle East, Asia and Africa. Client examples include data centers, test labs, server rooms and other remote or clean sites. LTRX shares have "buy" ratings from analysts, whose price targets average a 137% upside.

7. AudioEye Inc.
AudioEye Inc. (NASDAQ: AEYE) provides accessibility solutions to clients using AI technology and software. By utilizing this tech, AudioEye can disseminate content into an accessible format and distribute it to any internet-connected end user. The platform can transform data and information into appropriate forms for users with dyslexia, epilepsy, color blindness and other disabilities. All three analysts covering AEYE have a "buy" rating on the stock, and the average price target indicates an upside potential of over 90%.

8. Lantern Inc.
The smallest of our best AI stocks, Lantern Pharma Inc. (NASDAQ: LTRN), is a tiny clinical-stage biotech from Dallas, Texas. Despite only 22 full-time employees and a $50 million market cap, Lantern has shown potential by using AI and machine learning processes to streamline the development of drugs. The firm is currently attempting to develop several cancer treatments, such as LP-100 for use with PARP inhibitors, LP-284 to treat different types of lymphoma, and LP-300 for non-small cell lung cancer. The pharmaceutical industry is a notoriously tricky field (especially cancer treatment), but Lantern has analyst coverage with a "buy" rating and an $11 price target representing a 155% upside.

AI Technology Stocks Have Promise, but Smaller Firms Contain Larger Risks
Artificial intelligence is undoubtedly a market theme to remember over the next few years. However, uncovering rare gems may prove difficult. Large-cap stocks like NVIDIA and Microsoft have dominated the industry, and smaller startups are always at risk of having their innovative products usurped. Searching for the best cheap AI stocks to buy now takes conviction; many small and microcap companies will fail or larger competitors will swallow them. 
Slam-dunk investments usually don't come with share prices under $10, so always be cautious when buying cheap stocks in volatile market sectors. Just because a stock is affordable doesn't necessarily mean it has significant potential upside. Research small stocks vigorously and be ready to discard them when the first red flag appears.
Methodology
For inclusion in our artificial intelligence stocks under 10 list, each company must utilize some form of AI, machine learning or automated computer technology to create a product or service. Companies also must meet at least three of the following criteria:
Listed on a major exchange (NYSE, NASDAQ, BATS, TSX etc.) — no

penny stocks

or pink sheets.

Earnings estimates accelerating

Expanding analyst coverage

Average price target above current price 

Insiders accumulating shares 

Increased buy ratings over the last 12 months