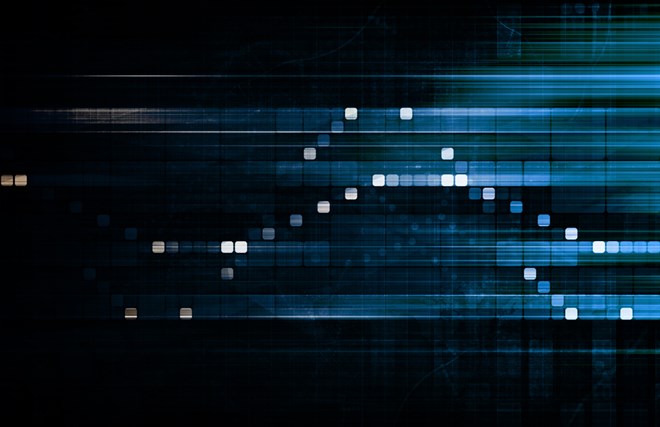 Enterprise collaboration software maker Asana Inc. (NASDAQ: ASAN) stock formed a "gap and crap" after reporting its fiscal Q4 2023 earnings. A gap and crap describes the price action for when a stock gaps up on earnings on the market open and then proceeds to sell off, giving back its gains. On March 9, 2023, Asana shares gapped up to $22.95 on its earnings report on the open, only to sell off to a low of $20.09 and proceed to fall further to $18.55 the next day. This indicates anxious profit takers wasting no time cashing out their chips.
However, shares were able to rally back up afterward to a high of $22.56. The earnings had improved with more minor losses than expected while guidance was raised. Arguably, the more significant catalyst was that its CEO, Dustin Moskovitz stated his intent to purchase up to 30 million shares of stock for up to $700 million. This is on top of the $350 million of stock he purchased two quarters prior.
Billionaire CEO
Moskovitz was a billionaire, and he launched Asana in 2008 to make workflows, project, and task management more efficient across teams through a unified and integrated collaboration platform. The company competes with other enterprise collaboration software providers like Salesforce Inc. (NYSE: CRM) owned Slack, monday.com Ltd. (NASDAQ: MNDY), Smartsheet Inc. (NYSE: SMAR), Workday Inc. (NASDAQ: WDAY) and Trello to name a few. Where Moskovitz got all this money, he co-founded Meta Platforms Inc. (NASDAQ: META) or Facebook back then.
Not All the Right Moves
Remember that Moskovitz bought $350 million of ASAN stock in fiscal Q2 2023. This didn't help the stock price as shares continued to melt from $28 to $12 during the technology bear market in 2022. The Nasdaq 100 lost (32.5%) in 2022, taking down many technology stocks.
No IPO and No Proceeds
The company when public through direct listing during the COVID-19 pandemic on September 30, 2020. A direct listing bypasses the expenses of an IPO since it doesn't use underwriters or a road show to spur institutional investment. There are no lock-up periods, which enables insiders to sell their shares when they please freely.
The company receives no proceeds since there is no IPO. Direct listings are rare but happen for select companies that don't need the money since they are either very profitable or have deep-pocket backers. Asana was the latter case. The downside of direct listings is that the liquidity can be relatively thin without institutional ownership stabilizing the stock price.
Growth and Declining Losses
On March 8, 2023, Asana released its fiscal fourth-quarter 2023 results for January 2023. The company reported an earnings-per-share (EPS) loss of ($0.15), excluding non-recurring items, versus consensus analyst estimates for a loss of ($0.27), a $0.12 beat. Revenues grew 34.2% year-over-year (YoY) to $150.2 million beating  $145.12 million consensus analyst estimates. Dollar based net retention rate was more than 115%.
CEO Moskovitz commented, "Revenues for the fiscal year were up 45 percent year over year and we reported significant improvement in operating margins. We are grateful to work alongside some of the world's largest, most innovative enterprises."
Raised Guidance
Asana  provided guidance for fiscal Q1 2024. Revenues are expected to rise 24% to 25% YoY to $150 million to $151 million. Non-GAAP operating losses are expected between ($40 million) (and $30 million). Non-GAAP net loss per share is expected between ($0.19) to ($0.18) on 215 million outstanding shares. Consensus estimates are for a loss of ($0.23) on $150.29 million in revenues.
Non-GAAP operating losses are expected between ($130 million) to ($120 million) or non-GAAP net loss per share of ($0.59) to ($0.55) on 219 million shares outstanding. Consensus estimates are for a loss of ($0.80) on revenues of $638 million to $648 million versus a loss of ($0.80) on $645.91 million in revenues. For the fiscal full-year 2024, Asana expects revenues of $638 million to $648 million.
Daily Rounded Bottom Cup
The daily chart on ASAN illustrates a cup forming after a rounded bottom. The cup lip formed when shares fell from $22.95 on November 14, 2022, to reach an all-time low of $11.32 on January 6, 2023. Shares triggered a weekly market structure low (MSL) breakout through $14.47.
They peaked near $18.55 on February 2, 2023, before returning to higher lows that held the weekly MSL trigger level as support through a complete daily stochastic oscillation back down through the 20-band and forming the rounded bottom. ASAN mounted a rally on March 2, 2023, as the daily stochastic bounced towards the 80-band and into earnings. The stock gapped to the $22.95 daily cup lip line on its fiscal Q4 2023 earnings in March. 10, 2023, but sold off to $18.55 by the next day.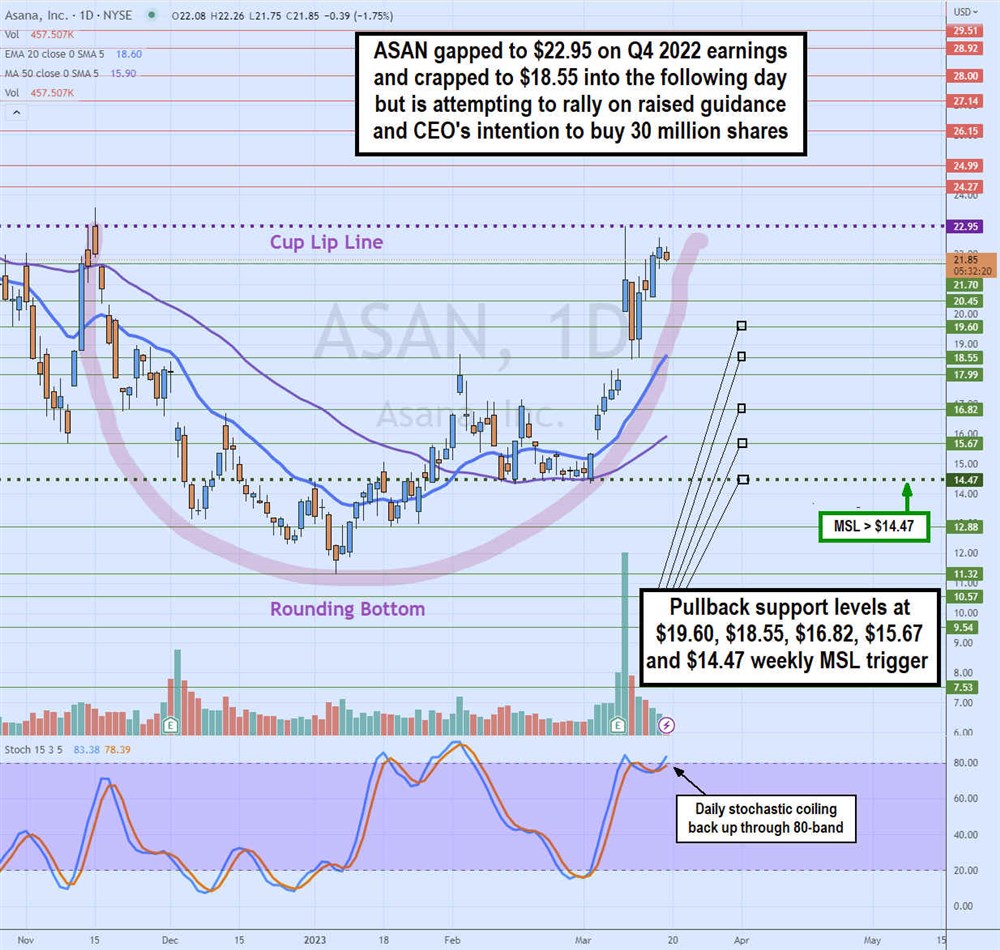 Buyers returned to the stocks on March 13, 2023, and rallied shares back towards the daily cup lip line as the daily stochastic crossed back up through the 80-band. A pullback off the lip and a higher MSL trigger breakout through the cup line are needed for the cup-and-handle breakout to form. On the flip side, if shares fall under the $17.99 area gap fill territory, pullback support levels are at $19.60, $18.55, $16.82, $15.67, and $14.47 weekly MSL trigger.