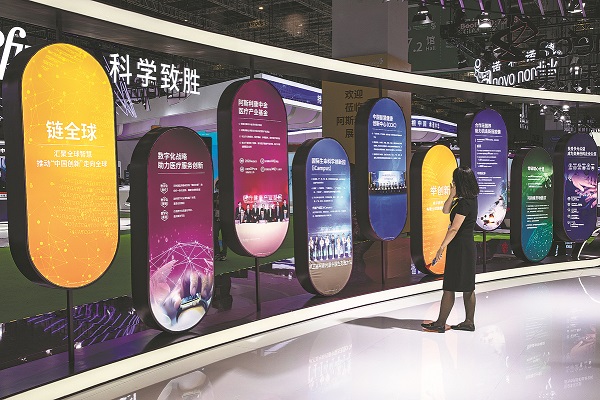 A visitor views exhibition boards at the exhibition area of pharmaceutical company AstraZeneca during the fifth China International Import Expo in Shanghai on Nov 7. [Photo/China Daily]
With market recovery, confidence in growth, expansion returns to mainland
Global firms are ready to grab opportunities in the recovering Chinese market, with some making long-awaited business trips and others staying on top of the latest policy moves.
For Oliver Blume, chairman of the board of management of Volkswagen AG, his recent business trip to China solidified his optimism.
"China is the most important market for us and we will continue to expand our product lineup in the country," Blume said in an interview with Xinhua News Agency.
Following the Spring Festival holiday, Blume spent a full week visiting Beijing, Shanghai, Changchun in Jilin province and Hefei in Anhui province, exchanging ideas with Chinese colleagues, business partners and representatives from local governments.
Such face-to-face talks and intensive on-site visits have led to a deeper understanding of the Chinese market. "We predict that the Chinese automobile market will sustain its recovery momentum in 2023. The market prospect for new energy vehicles is particularly bright," said Blume.
Bullish on China's economy, he said Volkswagen will build new technology partnerships in the Chinese market.
Volkswagen AG is not the only global heavyweight seeking to further understand the Chinese economy to enable it to grasp its opportunities.
Dozens of multinationals have reached out to the Ministry of Commerce for assistance in arranging business visits to China, Shu Jueting, a spokesperson of the ministry, said earlier at a news conference.
To better meet the needs of multinationals, Shu said the ministry will strengthen regular exchanges with foreign-invested companies and overseas business associations and fully implement national treatment of foreign-funded firms.
On March 15, at a news briefing dedicated to foreign businesses in China, Vice-Minister of Commerce Sheng Qiuping reaffirmed China's commitment to continuously advancing opening-up.
Sheng introduced in detail the positive signals released by this year's Government Work Report as well as the country's favorable conditions for foreign firms to expand investment, including a growing market scale, extended incentives from opening-up policies and new emerging growth momentum.
Leon Wang, executive vice-president of pharmaceutical company AstraZeneca, showed a keen interest in China's policy environment and paid particular attention to the Government Work Report.
"China has renewed its pledge to intensify efforts in attracting and utilizing foreign investment in this year's Government Work Report. We think the country's further opening-up and better business environment for overseas companies can be expected," said Wang.
"As one of the world's biggest medical markets, China has become AstraZeneca's most important growth engine," he said.
In 2023, AstraZeneca will speed up research and development in China, and rely on its regional headquarters in Beijing, Guangzhou, Guangdong province; Wuxi, Jiangsu province; Hangzhou, Zhejiang province; Chengdu, Sichuan province; and Qingdao, Shandong province to promote whole industry integration.
The company is looking forward to the Boao Forum for Asia and the China Development Forum in late March, and will hold offline activities themed "AstraZeneca R&D China Science Day" in Shanghai.
A recent survey conducted by the American Chamber of Commerce in South China also pointed to growing optimism, as over 90 percent of the surveyed companies said they consider China to be one of their most important investment destinations, with 75 percent of the respondents planning to reinvest in China in 2023.
Official data from the Ministry of Commerce shed light on the investment dynamics. In the first two months of 2023, foreign direct investment on the Chinese mainland, in actual use, expanded 6.1 percent year-on-year to 268.44 billion yuan ($39.18 billion).
The International Monetary Fund has raised its projection for China's economic growth in 2023 to 5.2 percent. Morgan Stanley, Goldman Sachs and other investment banks have also revised their forecasts upwards.
With the synergy effect of various policies in play, China's economy is expected to pick up and again become an important "locomotive" of global economic growth, said Zhang Ming, deputy director of the Institute of Finance under the Chinese Academy of Social Sciences.
For Wang, this year's official growth target of around 5 percent is a strong suggestion of China's determination to stabilize its economy.
"We have also seen the country's resolution in optimizing and deepening reform in the service sector, which is a shot in the arm for AstraZeneca," he said.
Media Contact
Company Name: The Information Office of Hangzhou Municipal Government
Contact Person: Cai Jingwen
Email: Send Email
Phone: 0510-68559077
Country: China
Website: http://www.ehangzhou.gov.cn/