Dieppe, New Brunswick--(Newsfile Corp. - June 27, 2023) - Colibri Resource Corporation (TSXV: CBI) (OTC Pink: CRUCF) ("Colibri" or the "Company") is pleased to report the results of recent geological mapping and outcrop sampling completed at the Banco de Oro and Bonancita targets on the Plomo property, EP Gold Project, Caborca Gold Belt, Sonora.
Ron Goguen, President & CEO of Colibri commented, "Our compilation and interpretation of exploration data covering our "EP" project, consisting of our Evelyn property and the newly acquired Plomo property, has provided the Company with a strong foundation for continued exploration. On the Plomo property, we will swiftly continue hitting the ground and completing the necessary basic boot and hammer work required to support advanced exploration and an inaugural drill program. On the Evelyn side of the property, we are preparing for a drill program to evaluate newly acquired geochemistry results and to test targets that have already advanced through the exploration pipeline."
BANCO DE ORO HISTORICAL SUMMARY AND RESULTS
Background
The historical Banco de Oro Mine is located on the southwestern part of the Plomo property (see illustration 1) and consists of a narrow south-southeast striking and shallow west dipping open cut developed on surface over an approximately 70 m strike length. The full extent of underground development is unknown to the Company, however, historical sampling of the fault zone exposed in the open cut at surface and underground returned 298.0g/t Au over 2.35 metres, 15.1g/t Au over 0.65 metres, 14.5g/t Au over 0.80 metres and 11.0g/t Au over 0.60 metres. A grab sample collected during due diligence field work by the company assayed 12.3 g/t Au (see illustration 2).
Numerous historical surface grab samples > 1 g/t, including 5 samples > 5 g/t Au, from the Banco de Oro target area form a north-northeast trend over an approximately 1 km distance. Reconnaissance level field work completed by Colibri during it due diligence process returned 7.56 g/t Au and 1.99 g/t Au from grab samples along this northeast trend (see illustration 2).
Mineralization at Banco de Oro consists of brecciated quartz veins hosted in foliated sericitized and pyrite bearing rhyolite. It is interpreted to be located at the intersection of a north-northwest trending fault zone which is mapped on the Evelyn property and extrapolated onto the Plomo property (supported by the interpretation of a resistivity survey) and the northeast trending mineralized zone described here. The Banco de Oro is a priority target area with the objective of developing a drill plan.
Current Results
Geological mapping recently completed by the Company was focussed on covering the northeast trend and covered an area of approximately 41 ha extending approximately 500 m north of the historic Banco de Oro mine. Bedrock exposure in the map area was limited however several outcrops of tourmaline-quartz breccia were mapped which form a northeast trend. Sixty-six grab samples of outcrop were collected for Au assay and the results indicate a widespread area gold enrichment; Au was detected in 46 of the samples, 14 samples returned Au assays > 0.1 g/t Au with a high value of 1.49 g/t Au.
Illustration 1: Evelyn & Plomo Outcrop & Trench Grab Samples
To view an enhanced version of this graphic, please visit:
https://images.newsfilecorp.com/files/4269/171455_1e513a8324dcaad5_001full.jpg
Illustration 2: Banco de Oro geology and sample map
To view an enhanced version of this graphic, please visit:
https://images.newsfilecorp.com/files/4269/171455_1e513a8324dcaad5_002full.jpg
BONANCITA SUMMARY AND RESULTS
Background
The Bonancita target area is located in the north-central part of the Plomo property and consists of 4 prospects all of which contain historical assays from outcrop samples > 1 g/t Au. Three of the prospects, Bonancita, Bonancita NWI and Bonancita NWII, form a NW trending linear, approximately 2 km in length (see illustration 1), which is coincident with both a strong topographic lineament and with a strong, NW trending, regional scale magnetic gradient lineament. Historical work in the Bonancita target area has mapped very strong NW trending foliation development. The prospects comprising the Bonancita target area are delineated by a number of historical outcrop grab sample assays greater than 1 g/t Au and include high values of 16.3 g/t Au and 6.44 g/t Au.
Current Results
Geological mapping and sampling recently completed by the Company was limited to the southern-most prospect where the objective was to evaluate a northwest mineralized trend defined by historical sampling, including a high value of 7.62 g/t Au, occurring within a wider zone of vein quartz. Approximately 60 ha were mapped and a total of 75 outcrop samples were collected for Au analyses. Au was detected in fifty-five of the 75 samples analysed, 15 of the samples returned values > 0.1 g/t Au, and 3 of the samples contained Au > 1.0 g/t, with a high sample of 2.72 g/t Au. The mapping and sampling confirmed the previously delineated northeast mineralized structure. Mineralization within the trend is characterized by vitreous quartz with weakly disseminated but ubiquitous pyrite and oxidized pyrite and locally containing galena. This style of mineralization contrasts sharply with adjacent vein quartz, which is milky white, contains no visible sulphide, and very low grade Au values. Mapping has also delineated a northeast trend of anomalous to higher grade samples within the area of historical sampling.
Colibri views the Bonancita target area as an earlier stage opportunity to evaluate the potential for a large gold system. Work was initiated in the southern-most prospect area (Bonancita) of the Bonancita NW trend and will be extended to the northwest.
Illustration 3: Bonancita geology and sample map
To view an enhanced version of this graphic, please visit:
https://images.newsfilecorp.com/files/4269/171455_1e513a8324dcaad5_003full.jpg
EP PROJECT NEXT STEPS
The Company continues to evaluate both the Evelyn and Plomo properties of the EP Gold Project with the objective of advancing prospects and prioritizing drill targets. The Company will continue to evaluate mineralized domains at the Banco de Oro, Bonancita, and Pavo Real targets as well as initiating work at the San Perfecto target. The Company anticipates continued exploration to include geological mapping as well as trenching with a mechanical shovel. On the Evelyn side, the Company is currently planning a RC drilling program to follow up on positive soil geochemistry results north and south of the Main Zone a well as west of El Sahuaro.
ABOUT PLOMO
The newly acquired Plomo property is contiguous with the Company's Evelyn Property and collectively they comprise the Company's EP Gold Project covering a total area of 4,766 Ha. The EP Gold Project is located in the 500 km long, northwest trending Caborca Gold belt which includes the > 15 million ounce La Herradura Mine, located 25 km west of EP, the > 2-million-ounce Noche Buena Mine located approximately 8 km southwest of EP, and the past producing Soledad-Dipolos Mine (> 3 Moz Au) located approximately 32 km to the northwest of EP (see attached map 4).
Highlights of the Plomo Property include:
The historical database, totaling 1,853 surface rock samples, includes 524 samples greater than 0.1 grams per tonne ("g/t") Au, 132 samples greater than 1.0 g/t Au, and 15 high grade samples greater than 10 g/t Au. Surface exploration including prospecting, mapping, and rock sampling since 2007 has resulted in the identification of 9 target areas on the Plomo property (see Map 3)
Underground sampling completed in the adit at the Banco de Oro prospect in 2008 are reported to have included 298.0 g/t Au over a chip length of 2.4 metres
The Plomo property has been the subject of only very limited exploration drilling, completed in 2008, with a total of 1,570 meters completed in 10 holes. Highlights of the drilling are 0.66 g/t Au over an intersection length of 11.65 metres ("m") and 0.92 g/t Au over an intersection length of 4 m.
The Plomo property has had small scale artisanal mining including pits, adits, and placer mining dating back to the 18th century. The first recorded exploration was in 2006 and the property has been the subject of only episodic exploration since that time.
Mapping completed by Colibri geologists confirmed vein style mineralization consisting of veins, veinlets, and vein stockworks, altered host rocks that include intense silicification, sericite, disseminated pyrite, and locally tourmaline bearing stockworks and breccias.
Sampling by Colibri completed during its due diligence evaluation confirmed the historical distribution of high-grade samples at Plomo and included twenty-five grab samples with values > 1.0 g/t Au, including 6 samples with values > 5 g/t Au. A total of 62 grab samples taken by Colibri during due diligence sampling returned Au assay values > 0.1 g/t Au.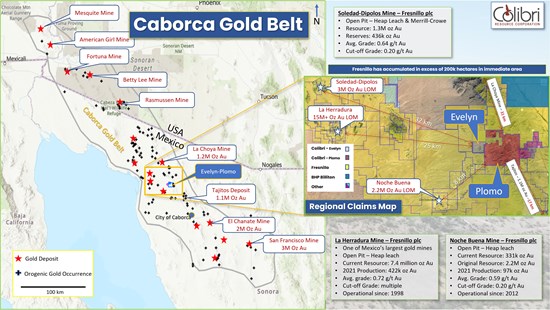 Illustration 4: Location of the Plomo & Evelyn properties within Caborca Gold Belt
To view an enhanced version of this graphic, please visit:
https://images.newsfilecorp.com/files/4269/171455_1e513a8324dcaad5_004full.jpg
QAQC
Assays for the Plomo mapping and sampling program have been completed at ALS Laboratories (ALS) with sample preparation completed in Hermosillo, Sonora and Atomic Absorption and Fire Assay analyses completed in Vancouver, Canada. Colibri employs industry standard QAQC protocol including the use of control samples (Certified Standards and Blanks) and check assays. Jamie Lavigne, P. Geo has supervised the drilling program at Evelyn.
QUALIFIED PERSON
Jamie Lavigne, P. Geo and a Director for Colibri is a Qualified Person as defined in NI 43-101 and has reviewed and approved the technical information in this press release.
ABOUT COLIBRI RESOURCE CORPORATION:
Colibri is a Canadian-based mineral exploration company listed on the TSX-V (CBI) and is focused on acquiring and exploring prospective gold & silver properties in Mexico. The Company holds six high potential precious metal projects, all of which have planned exploration programs for calendar 2023.
For more information about all Company projects please visit: www.colibriresource.com.
Neither TSX Venture Exchange nor its Regulation Services Provider (as that term is defined in the policies of the TSX Venture Exchange) accepts responsibility for the adequacy or accuracy of this release.
Notice Regarding Forward-Looking Statements:
This news release contains "forward-looking statements". Statements in this press release which are not purely historical are forward-looking statements and include any statements regarding beliefs, plans, expectations or intentions regarding the future. Actual results could differ from those projected in any forward-looking statements due to numerous factors. These forward-looking statements are made as of the date of this news release, and the Company assumes no obligation to update the forward-looking statements, or to update the reasons why actual results could differ from those projected in the forward-looking statements. Although the Company believes that the plans, expectations and intentions contained in this press release are reasonable, there can be no assurance that they will prove to be accurate.
For information contact: Ronald J. Goguen, President, Chairperson and Director, Tel: (506) 383-4274, rongoguen@colibriresource.com
To view the source version of this press release, please visit https://www.newsfilecorp.com/release/171455