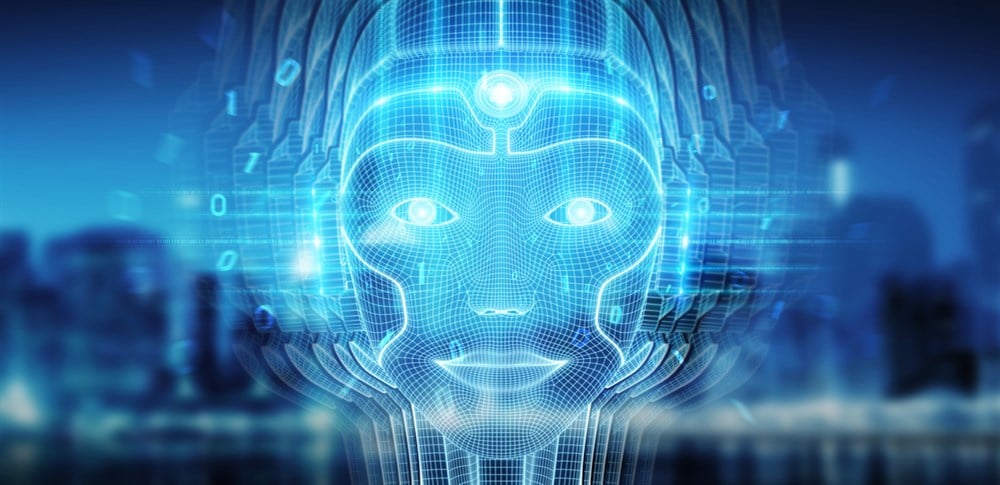 Unless you've been hiding under a rock, you should know about the artificial intelligence (AI) mania that has hooked mainstream attention. Numerous articles and videos talk about AI. The stock market has blown up stocks that are involved with AI. Finding an AI stock to place your bets in can be a tall order.
The other solution is to let the professionals handle it and consider investing in literally all of them through the Global X Artificial Intelligence & Technology ETF (NASDAQ: AIQ). The ETF claims to be the world's first generative AI ETF. PwC noted that AI could bolster the global GDP by 14% or $15.7 trillion by 2030.
About AIQ ETF
The AIQ ETF was launched on May 11, 2018. It has $283 million in net assets. It holds 86 companies and has 10.5 million shares outstanding. AIQ is designed to track the performance of the Indxx Artificial Intelligence & Big Data index. This index comprises companies involved in the use, design and development of AI software, platforms or hardware to help analyze big data. Global X Management Co. manages it with an expense ratio of 0.68%. The ETF comprises various technology companies that can help spread risk, but the sector is inherently volatile and risky.
The King of the AI Mountain
While Microsoft Co. (NASDAQ: MSFT) and Open.ai's ChatGPT versus Alphabet Inc. (NASDAQ: GOOGL) Google Bard AI is getting most of the spotlight in the AI wars, it's the supercomputers that are allowing AI even to exist and operate. It's no wonder that the largest weighting in AIQ is NVIDIA Co. (NASDAQ: NDVA) at 5.07%.
Thanks to the enormous price run-up and blowout earnings guidance, graphic processing unit (GPU) leader Nvidia spiked to new all-time highs on its fiscal Q1 2024 earnings report. It shocked the markets when they raised their fiscal Q2 2024 revenue guidance to $11 billion, up from $7 billion. This is mostly from its data center segment, which is expected to grow over 60% YoY.
At first thought, ChatGPT is convenient and runs efficiently on a desktop computer. However, the servers do the heavy-duty legwork to generate responses and push them back to your computer or mobile device. Nvidia is the gold standard for these supercomputers that easily cost several hundred thousand dollars apiece.
ChatGPT is commonly trained on Nvidia GPUs, and the explosion in ChatGPT exposure has called for an explosion in Nvidia GPU sales.
Nvidia's AI potential is hitting the spotlight in 2023, but they have been developing AI applications since 2006 and have been at the forefront of AI development since 2012. Nvidia has been the default AI standard since 2012.
Most consumers are familiar with Nvidia GPU chips are gaming and graphics and crypto mining, which sell for up to $1,700 for high-end GPU cards. However, their data center AI GPUs sell for $10K to $40k with up to 75% gross margins. While the focus with ChatGPT and generative AI has been the software applications, they need a ton of floating computational math capabilities to operate AI servers.
An example of an AI server is the Nvidia DGX H100 costing $212K, which Nvidia pockets $191K of the component revenues.
The Rest of the Crowd
Meta Platforms Inc. (NASDAQ: META) is the second largest, weighing 4.64%. Third is electric vehicle (EV) leader Tesla Inc. (NASDAQ: TSLA) at 4.26%, followed by Salesforce Inc. (NYSE: CRM) at 3.46% and Microsoft at 3.39%, rounding out the top five holdings based on market capitalization. Ironically, Alphabet Inc., the parent of Google AI Bard, is weighted at number 10 with 3.08% and 8.76 million shares.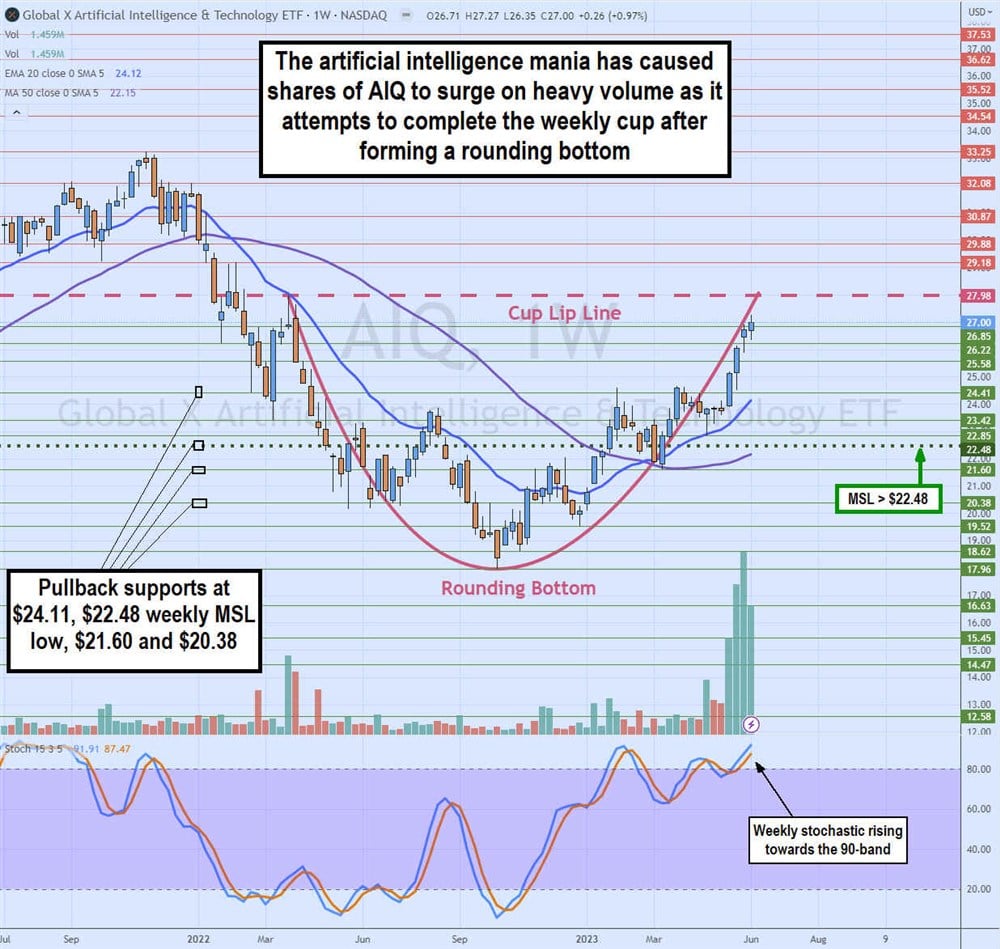 Weekly Rounding Bottom Cup
The weekly chair on AIQ appears attempting to form a cup after a rounding bottom and potentially a cup and handle formation. The cup lip line commenced after shares peaked at $27.98, and it continued lower until bottoming out at $17.96 in October 2022. Shares staged a breakout through the market structure low (MSL) trigger through $22.48 as the weekly stochastic continued to grind towards the weekly cup lip line. Volume has been elevated for the past four weeks as the weekly stochastic rises towards the 90-band. The weekly 20-period exponential moving average (EMA) support is rising at $24.12, followed by the weekly 50-period MA at $22.15. Pullback support levels are $24.11, $22.48 weekly MSL trigger, $21.60 and $20.38.