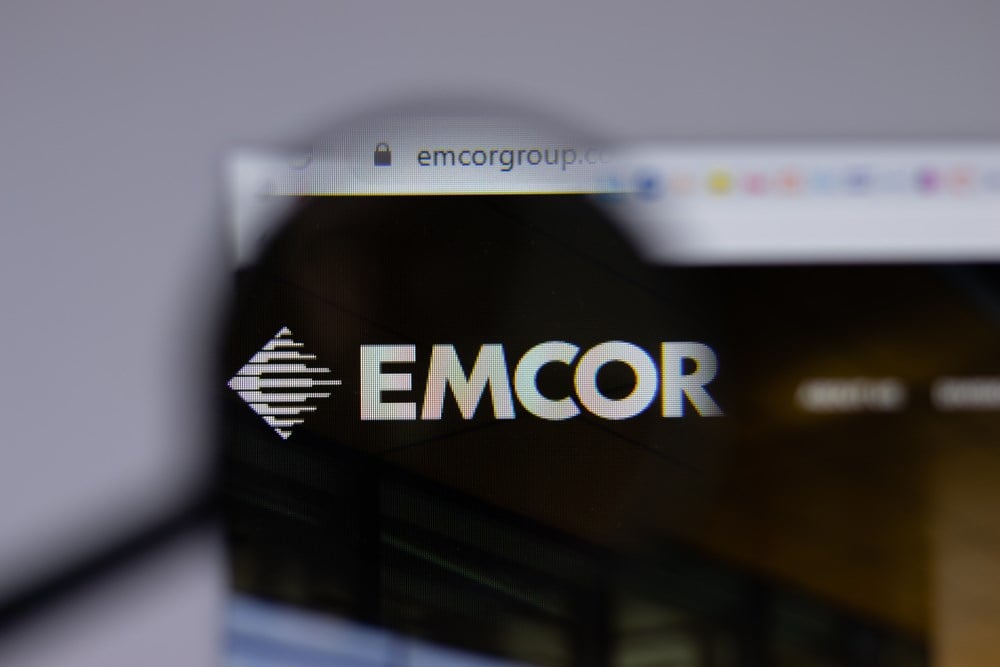 A glance at the Emcor Group Inc. (NYSE: EME) chart shows strong buying support as the stock bounces off its 50-day moving average. Emcor stock rallied to a new high of $174.05 on April 28, following a better-than-expected first-quarter report. 
With the current rebound off the 50-day line, Emcor stock is currently in a buy zone. 
Emcor is up 4.68% in the past month and up 13.30% year-to-date. That's outperforming the SPDR S&P MidCap 400 ETF Trust (NYSEARCA: MDY), of which it is a component.
Emcor, whose market capitalization is $8.139 billion, is one of the largest specialty contractors in the U.S. The company provides electrical and mechanical construction and facilities services, building services, and industrial services. Its 2022 revenue was $11.1 billion. 
The company serves a broad range of commercial, industrial, healthcare, utility, and institutional customers. 
Emcor Group earnings growth accelerated in the past four quarters, while revenue has been increasing at low double-digit rates. This year, Wall Street is eyeing net income growth of 21%, to $9.81 a share. That estimate was revised higher recently.
Next year, earnings are expected to grow another 9% to $10.73 a share. 
Manufacturing Construction Boom
The company is benefiting from an uptick in the construction of non-residential facilities. For example, according to an April report from the Economic Innovation Group, "Construction Boom Beginning to Reshape the Manufacturing Sector," the February value of manufacturing construction in was nearly 80% higher than three years ago. 
The report noted that manufacturers are building out new capacity at a historic clip. This was "initially spurred by a rapid recovery in demand for durable goods following the sharp but brief Covid-19-induced recession and now fueled by federal subsidies in the Inflation Reduction Act and CHIPS and Science Act," the report said. It added that accelerating decarbonization and supply chain resiliency are also factors.
Manufacturing facilities are just one example of demand that's helping drive Emcor revenue. 
In its first-quarter report, Emcor said its U.S. mechanical construction and facilities services unit comprised the biggest share of revenue, followed by U.S. building services, U.S. electrical construction and facilities services, U.S. industrial services, and United Kingdom building services. 
History Of Dividend Increases
The Emcor Group dividend yield is 0.42%, with an annual payout of $0.72 per share. The company has a three-year track record of increasing its dividend. 
The company also has a share repurchase program, bringing the total shareholder yield to 2.33%.
Emcor Group analyst ratings show a consensus view of "buy." As is common among mid-cap stocks, and especially those from outside high-growth industries like tech, there's sparse analyst coverage.
Frequently, analysts will cover companies where there's business to be gained, through mergers and acquisitions, or issuances of debt and equity. Larger companies and fast-growing industries tend to have more of that activity, which attracts researchers from big investment banks. 
Is The Stock Mispriced? 
A paucity of coverage can result in fewer institutional investors being aware of the stock.
It can also mean the stock may be mispriced, offering opportunities for individual investors who take the time to get informed about the company and its stock. 
In Emcor's case, the company does intend to pursue strategic acquisitions, according to comments from CEO Tony Guzzi in the quarterly earnings release. Guzzi added that the company also intends to continue with share repurchases, as well as its dividend payment. 
Avoid Chasing Price Higher
With Emcor's rebound off its 50-day line, the buy zone remains intact until the stock rallies more than five percent above its late April high of $174.05. It's generally best not to chase a stock too far past a previous high, as a new pullback is inevitable at some point, as investors who purchased at a lower price take some profits.
In fact, you can see that phenomenon at work using Emcor Group institutional ownership data. Since the company's earnings report, there's been a mix of institutional buying and selling. That correlates precisely with Emcor stock pulling back, but finding enough institutional support to find a floor at the 50-day average.