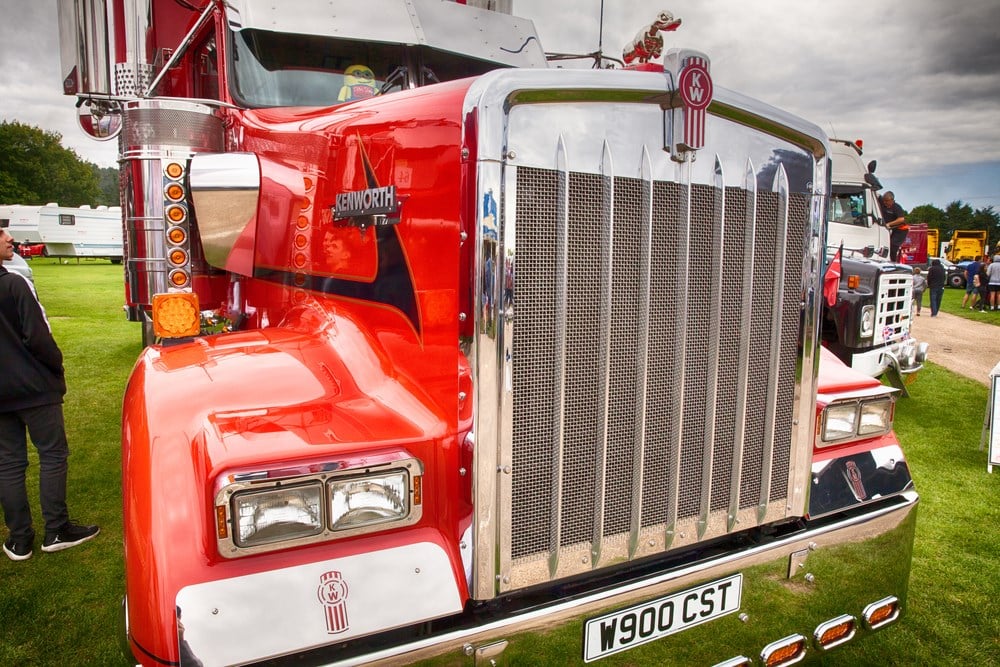 When you're on a freeway crowded with 18-wheelers, you're probably just thinking of how to pass them and make better time on the road, not who makes the cabs hauling Americans' stuff from one place to another. 
It's not a household name like automakers are, but truck designer and manufacturer Paccar Inc. (NASDAQ: PCAR) is the company behind the Kenworth, Peterbilt and DAF brands.
The company is rolling toward greater use of electrification in its vehicles. The company's green technologies include highly fuel-efficient diesel engines, natural gas and biofuel engines, as well as next-generation electric, hybrid, and hydrogen fuel cell powertrains. Paccar makes significant research and development investments: In the first quarter of 2023, it spent $97.2 million on R&D, up from $78 million a year earlier. 
In the quarter, which the company reported on April 25, Paccar earned $2.25 a share on revenue of $8.05 billion. Those were year-over-year increases of 96% and 32%, respectively.
Rolling Past Analysts' Views
Paccar earnings data compiled by MarketBeat show the company beating analysts' views on the top and bottom lines in the past five quarters. Earnings grew at double- or triple-digit rates in the past six quarters, while sales grew at double-digit rates in four of the past five quarters. 
In the Paccar first-quarter report, CEO Preston Feight cited long-term investments in new truck models, advanced manufacturing and a dynamic aftermarket parts business as key contributors to the company's higher operating margins. 
He noted that Paccar is also investing in next-generation battery electric and hydrogen powertrains, development of its autonomous vehicle platform, and enhanced Paccar Connect telematics. The latter is a program that allows fleet operators to monitor driver and fleet-wide performance to efficiently maximize logistics processes.
Addressing Electrification Roadblock
One big roadblock to expanded electrification of the trucking industry is charging: There is still a shortage of charging stations, and as with long-distance travel in a passenger vehicle, it's a time-consuming hassle for drivers to stop and recharge. 
Paccar is addressing at least one of those issues: In 2020, the company announced a partnership with Faith Technologies and Schneider Electric SE (OTCMKTS: SBGSF) to develop electric chargers. The program is still in its infancy, but Feight said in the prior quarter's earnings conference call that the company expects adoption of electric trucks to gradually increase. 
Paccar shares are up 2.17% in the past month, 1.08% in the past three months and 13.73% year-to-date. With a market capitalization of $37.94 billion, Paccar is a component of the S&P 500, and is tracked in the industrials sector. It's outperformed its sector in all those rolling timeframes, as well as on a one-year basis.
Long History Of Profitability
Analysts expect Paccar's earnings to increase by 33% this year, but to slow down in 2024. The company has a long history of robust profitability, and that's expected to continue. The Paccar dividend yield is 1.38%. 
Paccar's share of the U.S. and Canadian market for heavy-duty Class 8 trucks was 29.8% of retail sales in 2022, and its medium-duty market share was 10.9%. In 2022, Paccar's DAF brand had a 17.3% share of the European heavy-duty market and a 9.7% share of the light/medium-duty market. 
Widely Covered Stock
As an S&P 500 component, Paccar has a healthy amount of analyst coverage. Paccar analyst ratings show a consensus view of "hold."
The Paccar chart shows the stock currently consolidating in a pullback that's corrected just 12%, and it appears to be etching the right side of that pattern. Watch for Paccar stock to overcome resistance above $76.72 as a potential buy point.
Paccar institutional ownership data indicate that buyers just keep on truckin'. In the past 12 months, 606 institutions accounted for $2.43 billion in total inflows, while 339 institutional sellers accounted for $1.05 billion in total outflows.