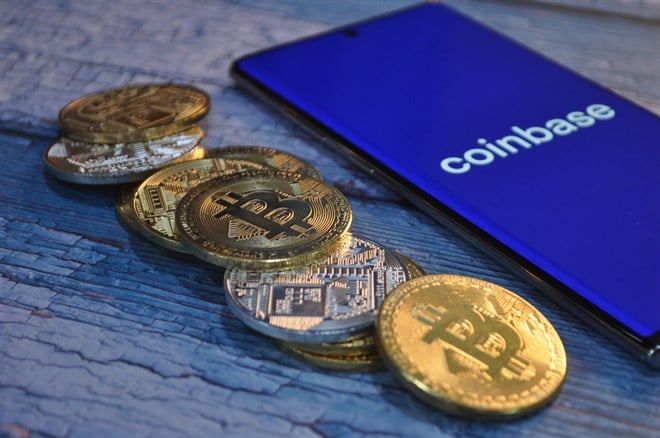 Shares of crypto exchange Coinbase Global Inc (NASDAQ: COIN) traded up as much as 10% in Tuesday's pre-market session off the back of a broad rally in crypto. A 20% rally in Bitcoin alone was enough to send investors back into crypto associated stocks, of which Coinbase is always one of the main players. This association has its downsides too of course, seen most obviously in the 85% drop in Coinbase shares since the crypto bubble burst at the end of 2021. 
But back to today's pop and what it means for investors. Well, for starters, let's look at the driver behind the rally in crypto. It all began last week when the tech-focused Silicon Valley Bank, a financial institution specializing in serving startups and venture capitalists, suffered run on its deposits and promptly collapsed. 
The Federal Deposit Insurance Corporation (FDIC) stepped in. It shut it down, leading to a long weekend of emergency meetings for the regulators and one can only guess how much stress for the customers with uninsured deposits. The sudden failure of the bank, the biggest since Lehman Brothers in 2008, has been tied to poor risk management, specifically with how the company left itself exposed to a rise in interest rates. 
Rush To Crypto
The news of SVB's financial troubles has sent shockwaves through the tech industry and the broader investment community. Investors have been spooked and are concerned about the potential fallout to stocks from the bank's failure, which is forcing them to turn to alternative investment options as a result. One such option that has seen a significant surge in value is Bitcoin. Having been weak through the second half of February, it has suddenly found itself higher by as much as 35% this week already. 
Four days of solid gains have now unsurprisingly flowed through to the likes of Coinbase. This fresh tailwind comes at an interesting time for the crypto exchange as it continues to weather the ongoing crypto winter. While its shares have been slashed from the heights they knew in 2021, they're actually not doing so bad recently. Since tapping an all time low at the start of January, they've rallied as much as 170%. Though, as mentioned they'd cooled in February, they're very much in consolidation mode right now and this bump in crypto will do them no harm at all. 
Getting Involved
Let it not be forgotten, Coinbase is still one of the largest cryptocurrency exchanges in the world and is in a very strong position to capitalize on any broader return to form by the likes of Bitcoin and its peers. We know that despite the selloff of the past year the cryptocurrency market is seeing increasing acceptance and adoption from both institutional and retail investors, while Coinbase specifically recently trumped analyst expectations for their Q4 earnings. 

It will be a while before they're printing their EPS numbers in black ink, but that doesn't mean investors can't make money with their shares in the meantime. The play right now is to watch for contagion fears to spread beyond just bank stocks, and for confidence in the broader stock market to waver. There has already been talk about the Fed slowing, if not downright pausing, their planning interest rate hikes in order to stabilize the system and any sign of this would likely generate strong risk-on sentiment. It's the opposite of this that has done so much damage to the likes of Coinbase in the past year but the rally since Christmas shows just quickly its shares can run with a bit of momentum.