03/08/2023, Dubai, UAE // PRODIGY: Feature Story //



The ever-growing Blockchain technology is slowly making its way into almost every sector of the world. This unique technology is especially transfiguring the education industry with its unparalleled revolutionary potential.


Online educational platforms have been on the rise since the 1900s. The advent of Blockchain technology has thrust these platforms into the spotlight. An amalgamation of this innovative tech with the educational field has created both widespread learning and teaching opportunities for individuals.

What Is Bitcamp?

Although the education sector is one of the largest in the world, it remains scattered and divided. Bitcamp is a superlative educational platform, built on Blockchain technology that brings together students, tutors, and professionals from all over the globe.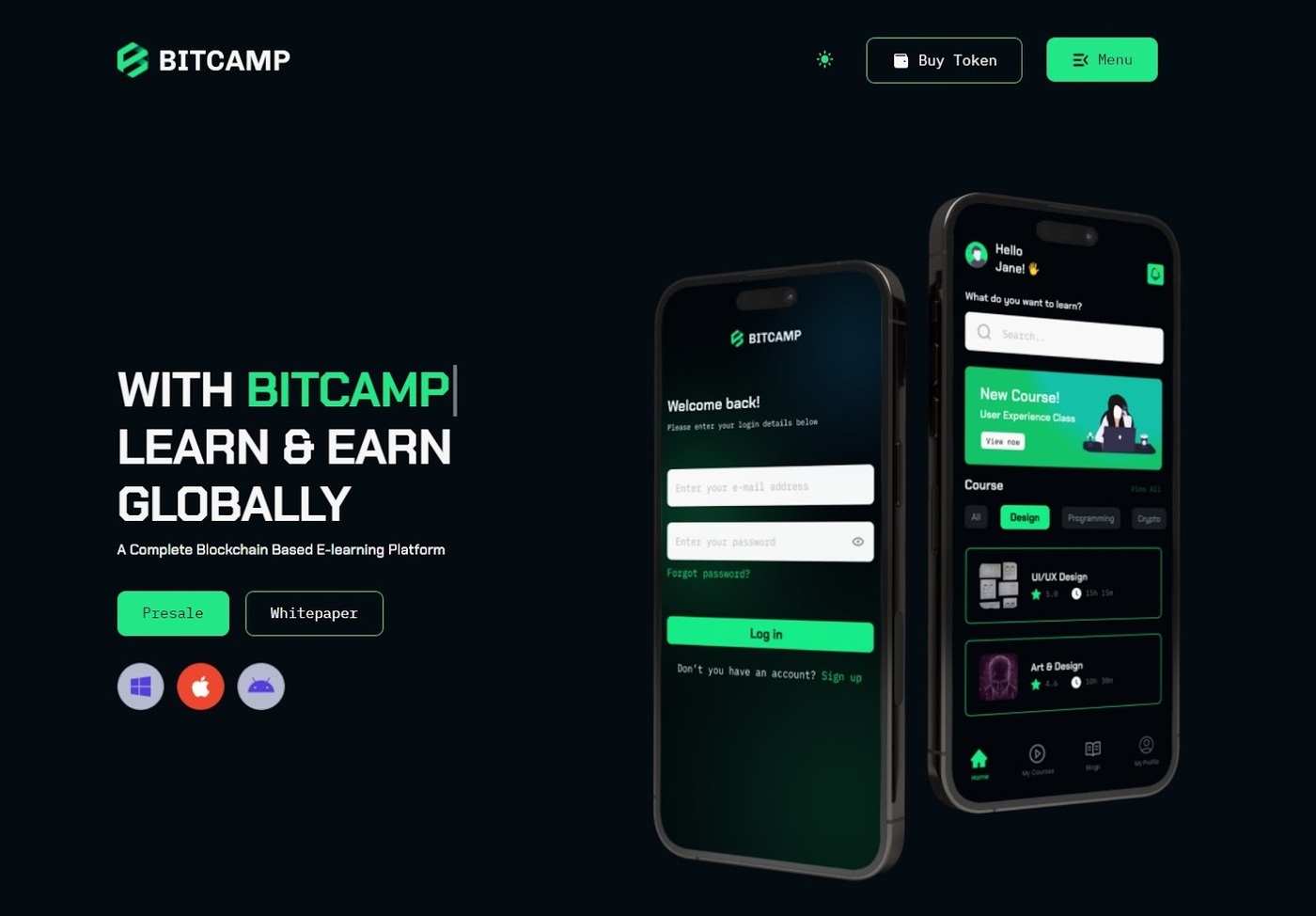 The project makes procuring education easy by providing a platform where the exchange of knowledge is possible regardless of wherever in the world a person is situated. At the same time, it creates employment opportunities for individuals who love to teach.
The major features of the Bitcamp platform include:
E-Learning App: Bitcamp believes that access to a world-class education is the right of every individual no matter where a person hails from. To achieve this end the firm has created an E-learning App through which it provides top-notch courses. The firm's native token BCM can be used to pay for these courses.

Course and Certificate: Bitcamp also provides the opportunity for users to get admitted to pre-eminent institutions and obtain online world-class degrees. This feature invigorates the concept of online and distance learning.

Certificate Explorer: Individuals apprehensive about the authenticity of their certificates can make use of Certificate Explorer. This is an online search portal where users can match their certificates with their course IDs to verify their degrees.

Crypto Payment: Bitcamp provides a safe, swift, and seamless channel for individuals paying for their courses. This payment mechanism has a great edge over traditional payment methods.
How Bitcamp Works?

The project adopts a fairly simple method of operation. Individuals looking to work with Bitcamp simply have to create an account and enter all the relevant details being asked. The attainment of this information is essential to ensure that only the finest tutors are enrolled. The next step is the creation and deployment of gigs. This is followed by boosting the gigs to allure more students. Once the students are done with the course, the professionals will receive their payments in the form of crypto.

Furthermore, the Bitcamp team has been KYCed and verified by Pinksale. The project's KYC and audit badges can be viewed by accessing the Fairlaunch link. Coinsult, the official audit partner of Bitcamp was entrusted with the task of deploying the company's contract. The audit report can be viewed on the firm's website.

The project works in close association with leading crypto platforms such as CoinMarketCap, CoinGecko, A-ADS, Nomics, Coinzilla, and many others. These partnerships are highly beneficial for marketing purposes and provide a minute-by-minute update to investors.

Bitcamp (BCM) Tokenomics

The endurance of any firm is highly dependent on how well the tokenomics is planned. For this reason, Bitcamp after careful consideration and deep pondering has allotted 50% of the initial token supply to the presale, 25.5% to the liquidity pool, 10% for the team, 10% for development, and the remaining 4.5% for marketing. The total supply of BCM is 10 million and the token is non-mintable.

Where To Buy and Store BCM?

The Bitcamp token can be purchased in presale through Pinksale, the firm's Launchpad platform. After the presale ends, the BCM will then be available on PancakeSwap for purchase.

The BCM token can be stored on any BEP 20 wallet. Notable wallets that investors can opt for include Metamask and Trust Wallet.

About the Project - Bitcamp

Bitcamp is an ultimate E-learning platform that aspires to rejig the educational sector by using blockchain technology. Bitcamp is a learning platform powered by blockchain which connects professionals, tutors, and students from across the world. Anyone with internet access can study and make money by sharing knowledge on our platform, no matter where they are located in the world.

Furthermore, potential investors and cryptocurrency enthusiasts interested in Bitcamp can visit the project's official website, or read the whitepaper for more details.

Website | Twitter | Telegram | Facebook | YouTube

Media Contact: 

info@Bitcamp.com

Disclaimer:

This press release may contain forward-looking statements. Forward-looking statements describe future expectations, plans, results, or strategies (including product offerings, regulatory plans and business plans) and may change without notice. You are cautioned that such statements are subject to a multitude of risks and uncertainties that could cause future circumstances, events, or results to differ materially from those projected in the forward-looking statements, including the risks that actual results may differ materially from those projected in the forward-looking statements.






Source: Prodigy.press

Release ID: 546833

Original Source of the original story >> Blockchain E-learning Platform, Bitcamp, is Transfiguring The Educational Sector