02/11/2023, British Columbia // PRODIGY: Feature Story //



Twisted Goat Coffee renowned for its exceptional range of options has added a new medium – Dark Roast Coffee; the Motivation Juice to its subscription box bringing another smart offering to its customers.

A good cup of coffee can change one's whole outlook to the day. It puts a spring in people's step and gets them ready for any challenge they might have to face with gusto. Twisted Goat Coffee came into being to ensure that coffee lovers can get their hands on delectable brews that are perfect for all adventures. And it has consistently done that with its 100% ethically sourced Coffee Beans that have made their mark with customers.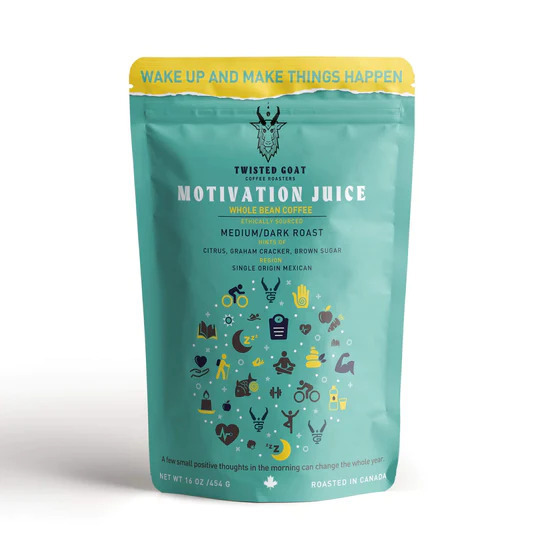 At the end of the day, as much as people love their brew, there is also growing awareness about sustainability and doing the right thing for the planet. These considerations have been paramount for Twisted Goat Coffee, which has constantly endeavored to support the farmers who work hard to grow and harvest green beans. And this ethical sourcing is also evident in its new Motivation Juice that has been added to the subscription box.

The new medium – Dark Roast Coffee has been ethically sourced from Mexico. And just like all other beans from Twisted Goat Coffee it has been hand roasted in the Rocky Mountain Valley. It has delicious Citrus, Graham Cracker, and Brown sugar tasting notes and can be brewed as Espresso, drip coffee, or French press. It's also interesting to note that it is roasted in small batches from customers' orders.

Some of the other highlights of this medium – Dark Roast Coffee- are that it is 100% natural like all other offerings from Twisted Goat Coffee. There are no artificial ingredients. Moreover, the roasting process used by the company kills mold and reduces Mycotoxins by 90%. It is also low in acidity, which is just what some customers might need in their daily brew.

By offering valuable information about its beans and roasts, Twisted Goat Coffee has always ensured that shoppers can make the right best decisions. Its Coffee Subscription Canada services are also designed to offer complete convenience to shoppers. Those interested can easily pick a brew box from its impeccable collection. There is only a short waiting period for the beans to be roasted by the company.

Their custom brew of freshly roasted coffee is delivered to their doorstep through completely free shipping. Shoppers have the option of choosing the quantity and changing at any time to continue or restart their subscription. To know more about the range of brilliant coffee options at Twisted Goat Coffee and its new Motivation Juice one can visit https://twistedgoatcoffee.com/.

About Twisted Goat Coffee

Since 2017, the company has made a name for itself amongst coffee lovers with its range of 100% ethically sourced coffee that is hand-roasted in small batches in the Rocky Mountain Valley.

###

Media Contact

Twisted Goat Coffee

Address: 103-211 Andover Cres, Kamloops British Columbia, V2C 6X2 Canada

URL: https://twistedgoatcoffee.com/

Email: hello@twistedgoatcoffee.com




newsroom: news.38digitalmarket.com




Source: 38 Digital Market News

Release ID: 522192

Original Source of the original story >> Twisted Goat Coffee Adds New Roast Motivation Juice To Subscription Box