WATERLOO, Ontario, Feb. 10, 2023 (GLOBE NEWSWIRE) -- FuelPositive Corporation (TSX.V: NHHH) (OTCQB: NHHHF) ("FuelPositive" or the "Company") provided an update today on the progress of its on-farm, containerized Green Ammonia production system and its current Sales Pipeline for 2023 and beyond.

System Readiness
System preparation - safety protocols and testing - certification.
FuelPositive is happy to announce that its on-farm, containerized Green Ammonia production system is now over 80% complete and its farm readiness impending, having overcome global supply chain delays the Company faced throughout 2022.
Both the hydrogen and nitrogen input modules are now fully operational, farm ready and are surpassing both quantity output and purity targets.
Nelson Leite, COO and Board Director stated: "We are thrilled with the near farm readiness of the system today. Final factory commissioning of our proprietary Green Ammonia synthesis module is currently underway, and the system will be producing Green Ammonia as soon as all safety certifications are completed. As illustrated in the the photograph below, our on-farm containerized Green Ammonia system is now a commercial scale, 100 tonne per year, highly engineered system that is monitored and controlled at over 140 points, which allows FuelPositive to measure and ensure, in real-time, the most optimal operating parameters, on-site."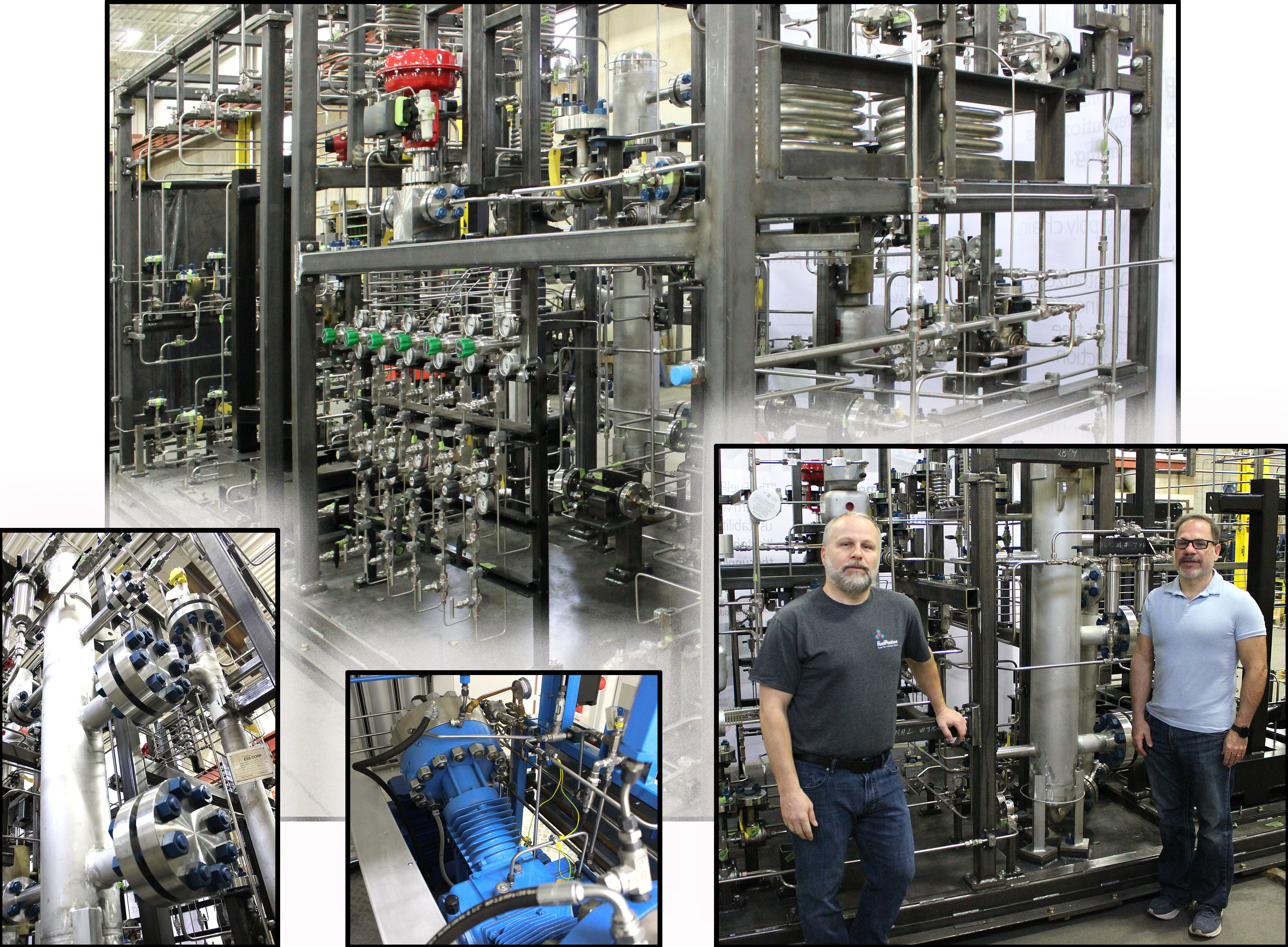 Martin Cina, Director of Project Execution and Nelson Leite, COO – next to FuelPositive proprietary Green Ammonia synthesis module
"Additionally, the system is so robustly engineered that we expect the service life of our systems to be measured in decades, beyond the anticipated 30-year mark. In other words, these are permanent on-site systems, that will be producing Green Ammonia at a steady rate of supply and stable cost to the end-user for decades," added Leite.
Farm Readiness
Site preparation: "We are working closely with the Hiebert's, our first pilot system recipients. They are ready and excited to welcome their first FuelPositive system on farm and they have completed the necessary permitting and site configuration for the shipment and installation of our first pilot. We will provide further updates as we prepare to deliver and commission our technology in Manitoba," said Leite
Sales Pipeline
Qualified sales leads have surpassed expectations.
"We've deliberately held off on announcing any progress on our sales pipeline up until this point. We wanted to ensure that we had a critical mass of interest that was relevant to report to our stakeholders." Stated Ian Clifford, CEO and Board Chair. "I'm very pleased to say that we have reached that point! With over 100 inquiries coming in from around the world, as of today we have jointly prequalified 42 of those who are fully matched to receive one or more of our systems. Obviously, we cannot meet that level of demand within the next 12 months in our current facilities, with our existing infrastructure, but it's a good problem to have! That means that we are now planning for heavy batch manufacturing in our current facilities, with the intention of building towards high output serial production in a purpose-built facility, as soon as practical," continued Clifford.
FuelPositive's pre-qualification criteria includes such factors as: type of farming; crop mix; types of nitrogen fertilizers utilized in the past, present and future; sources of green electricity; cost of green electricity; and other specific geographic and political considerations for the integration of our technology on site. The FP300 produces 300KG a day, or just over 100 metric tonnes of Green Anhydrous Ammonia per year on a base model system, with most sales inquiries requiring multiple systems.
"The demand for FuelPositive's scalable and modular Green Ammonia Technology is not exclusively within the realm of agriculture. We have interest coming in from multiple sectors, including marine, aviation, chemical processing, grid storage, Northern remote and rural communities, and water purification," added Clifford.
New Corporate & Sales Headquarters
As previously announced, FuelPositive has opened corporate offices at 420 Weber Street in Waterloo, Ontario which will serve as the corporate and sales headquarters. "Staff have now expanded into this modern space, situated just blocks from our manufacturing facility and steps away from Laurier University and University of Waterloo with whom we work closely," said Nelson Leite. "This will provide us with more room to grow as we build our sales and engineering teams."
Manufacturing and R&D Lab Open & Completed
The initial manufacturing facility and R&D lab at 99 Northland in Waterloo, Ontario is fully operational. The final validation of FuelPositive's scalable and modular Green Ammonia Technology is being conducted there, and batch manufacturing will be carried out at 99 Northland until the Company is ready to move to the larger, purpose-built manufacturing facility.
Announced in August 2022, FuelPositive has identified a site near its Waterloo facilities where it will be custom-building a factory with its land development partner. It will be a large, state-of-the-art facility, up to 140,000 square feet, and will meet the Company's needs when it switches from batch manufacturing to serial or assembly line manufacturing.
About FuelPositive
FuelPositive is a Canadian technology company committed to providing commercially viable and sustainable, "cradle to cradle" clean technology solutions, including an on-farm/onsite, containerized green ammonia (NH3) production system that eliminates carbon emissions from the production of green ammonia.
By focusing on technologies that are clean, sustainable, economically advantageous and realizable, the Company aims to help mitigate climate change, addressing unsustainable agricultural practices through innovative technology and practical solutions that can be implemented now.
The FuelPositive on-farm/onsite, containerized green ammonia production system is designed to produce pure, anhydrous ammonia for multiple applications, including fertilizer for farming, fuel for grain drying and internal combustion engines, a practical alternative for fuel cells and a solution for grid storage. Green Ammonia is also considered a key enabler of the hydrogen economy.
FuelPositive systems are designed to provide for green ammonia production on-farm/onsite, where and when needed. This eliminates wildly fluctuating supply chains and offers end-users clean fertilizer, energy and Green Ammonia supply security while eliminating carbon emissions from the production process. The first customers will be farmers. Farmers use 80% of the traditional grey ammonia produced today as fertilizer.
The Company began accepting pre-sale inquiries in August 2022. See pre-sale details here: https://fuelpositive.com/pre-sales/.
Cautionary Statement
Trading in the securities of the Company should be considered highly speculative. No stock exchange, securities commission or other regulatory authority has approved or disapproved the information contained herein. Neither the TSX Venture Exchange nor its Regulation Services Provider (as that term is defined in the policies of the TSX Venture Exchange) accept responsibility for the adequacy or accuracy of this release.
Forward-Looking Statements
This news release contains certain "forward-looking information" and "forward-looking statements" (collectively, "forward-looking statements") that are based on expectations, estimates and projections as of the date of this news release. The information in this release about future plans and objectives of the Company, including the expected expenditures of the proceeds of the private placement, are forward-looking statements.
These forward-looking statements are based on assumptions and estimates of management of the Company at the time they were made and involve known and unknown risks, uncertainties and other factors which may cause the actual results, performance or achievements of the Company to be materially different from any future results, performance or achievements expressed or implied by such forward-looking statements. Forward-looking statements are necessarily based upon a number of estimates and assumptions that, while considered reasonable by the Company as of the time of such statements, are inherently subject to significant business, economic and competitive uncertainties and contingencies. These estimates and assumptions may prove to be incorrect.
Many of these uncertainties and contingencies can directly or indirectly affect and could cause, actual results to differ materially from those expressed or implied in any forward-looking statements. There can be no assurance that forward-looking information will prove to be accurate, as actual results and future events could differ materially from those anticipated in such statements.
Forward-looking information is provided for the purpose of providing information about management's expectations and plans relating to the future. The Company disclaims any intention or obligation to update or revise any forward-looking information or to explain any material difference between subsequent actual events and such forward-looking information, except to the extent required by applicable law.   
For Investor enquiries, please contact:
Ian Clifford
Chief Executive Officer and Board Chair
info@fuelpositive.com
www.fuelpositive.com
Investor Relations (United States)
RBMG – RB Milestone Group LLC
Trevor Brucato, Managing Director
fuelpositive@rbmilestone.com
www.rbmilestone.com
For Media enquiries, please contact:
Oliveah Numan
Sussex Strategy Group
519-770-2991
onuman@sussex-strategy.com 
A photo accompanying this announcement is available at https://www.globenewswire.com/NewsRoom/AttachmentNg/93356148-7247-4ef9-acdd-9442598fa4a6