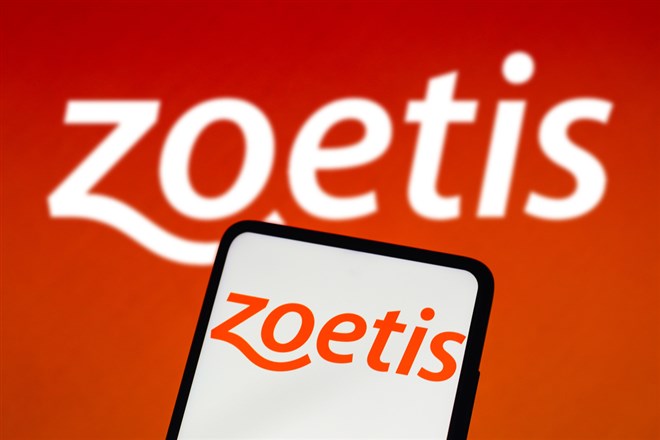 Next time you take your dog or cat to the vet, there's a good chance the clinic is using products made by Zoetis Inc. (NYSE: ZTS). 
The stock is up 7.99 in the past week, after topping fourth-quarter views in its February 14 report. It also guided toward robust sales this year. Shares gapped up 5.37% in heavy volume following the report and added another 1.82% in the following session. 
The New Jersey-based company makes products to diagnose and treat various animal health conditions. 
It's tracked in the S&P 500 healthcare sector, comprising 1.65% of sector weighting. 
Zoetis reported $1.15 per share on revenue of $2.04 billion, year-over-year increases of 15% and 4%, respectively. MarketBeat earnings data show the company meeting views on the bottom line but beating on the top line. 
The company guided toward sales in a range between $8.575 billion and $8.725 billion. The low end of that range was higher than analysts' forecasts of $8.56 billion, which helped send shares higher. 
The earnings outlook also came in above the midpoint of analysts' estimates. Zoetis said it expects adjusted net income in a range between $5.34 and $5.44 a share, a penny higher than analysts' consensus view.
Pet Segment The Big Grower
Zoetis sells to veterinary clinics, companies that raise livestock, and directly to owners of both livestock and domestic pets. The most significant growth in the fourth quarter came from the pet segment, where revenue increased by 10%. Livestock segment sales fell by 7%.
In the earnings conference call, Zoetis chief financial officer Wetteny Joseph offered more detail on how various segments performed, and why. 
"Our growth was driven by continued demand for our innovative new products in our companion animal portfolio, which grew 14% operationally. Our companion animal portfolio now makes up 64% of our global revenues," he said. "This growth was partially offset by our livestock business, which declined 2% operationally, primarily due to the generic competition, supply constraints, as well as challenging market conditions in certain geographies."
He said the cattle and swine markets in the U.S. and China, in particular, faced challenges. 
Zoetis' stock has been in a correction since January of last year, as the chart shows you. 
The stock has been clawing higher since rallying from a November low of $124.15. It's returned 17.07% in the past three months.
Leading Animal Health Company By Sales
Zoetis is the leading animal health company in the U.S., based on revenue. Rivals in the category include Merck & Co. Inc. (NYSE: MRK) and Elanco Animal Health Inc. (NYSE: ELAN). It also competes with Idexx Laboratories Inc. (NASDAQ: IDXX), which makes diagnostic tools for the veterinary market. 
Zoetis was part of Pfizer Inc. (NYSE: PFE) before it was spun into a separate company in 2013.
In a research note following the fourth-quarter report, Bank of America reiterated its view that sales of Zoetis' Trio line of medications to treat fleas and ticks, heartworm, and other conditions will remain strong, even as fellow animal-health company Boehringer Ingelheim launches a competitive product, NexGard Plus. 
Bank of America viewed Zoetis' guidance for a 1% decline in livestock products as "a relative floor." It added that Zoetis' planned $400 million in capital expenditures "will support continued pipeline development and capacity expansion, such as in monoclonal antibodies, to drive future growth."
Analysts See Strong Earnings Ahead
As Zoetis has expanded its product portfolio, particularly for companion animals, analysts have grown more upbeat about the company's sales and earnings prospects. 
Analysts' consensus estimate for 2023 earnings is $5.40 a share, which would be an increase of 11%. Next year, that's seen rising by another 12% to $6.03 a share. 
Marketbeat data show a consensus rating of "moderate buy," with a price target of $215.17, representing a potential upside of 23.23%.
The stock isn't quite in a buy zone, but its recent price performance is better than more than three-quarters of stocks over the past year, and particularly in the latest quarter. It's worth keeping an eye on to spot when it enters a potential buy zone.