What's Next for the Newly Crowned Largest Active ETF In Town?
December 14, 2020 at 11:17 AM EST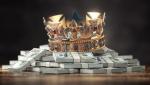 The ARK Innovation ETF (NYSEArca: ARKK) continues wracking up superlatives, something that would seem difficult to do with the exchange traded fund higher by a staggering 150.15% year-to-date. "Companies within ARKK include those that rely on or benefit from the development of new products or...