Created for parents, students, and educators alike, a newly-launched approach to playing card games takes the mystery out of how the brain functions.
New York, NY (PRUnderground) May 7th, 2018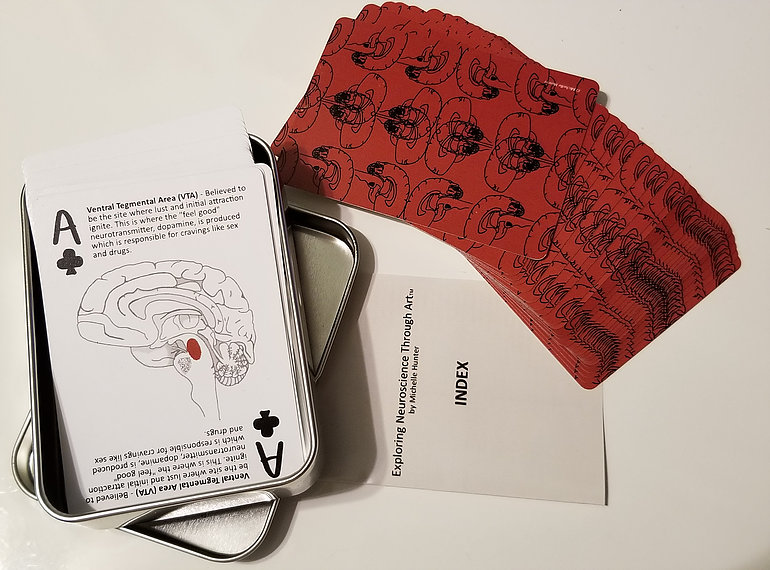 Who said getting an education in science had to be boring? Not native New Yorker and artist, Michelle Hunter.  She's the out-of-the-box thinker that has taken the mystery out of neuroscience with a game-centric approach to learning.  Using art as a go-to resource, Hunter has created a 54-card poker deck that features conceptual images of the brain and how it maneuvers between everything from love to sleep.  Placing a relevant gallery of museum-quality images at the fingertips, Hunter has used the brain as a teaching tool, both literally and figuratively.  In so doing, she has made a lofty subject seem approachable with the imaginative deck of cards called the Brain Series now available on her website. 
The artist said of the launch, "Brain Series is meant to help the general public gain a greater appreciation for this organ we all have but don't usually 'think' about. The brain is complicated; so much happens within its outer and inner layers at all times. This series of paintings, drawings, and playing cards will help parents, teachers, and students of all grade levels discover that.  I think it's a fun way to learn about, and more importantly, appreciate our brain."
Fourteen topics about how the brain works are covered in the custom playing card deck.  Each group of numbers represents different topics with descriptions and original art images.  Suits are placed in alphabetical order as such – club, diamond, heart, spade.  In that order, the suit of cards walks the user through exactly what happens in the brain when it has an experience.  For instance, what happens when a sound is heard?  With conceptual images of the ear and the passageway that leads to the brain, players will both visualize and read that answer.
Topics Hunter has chosen to address are love, memory, smell, taste, and touch.  These are in addition to sight, hearing, speech, emotion, decision making, and sleep. Scratching an itch is even tackled in the sciart project. Adding to the fun are thirst, cravings, cold temperatures, and heart rate, which leads players to learn about the brain's association with birth, breathing, and death among the interesting topics as well. 
For more information visit http://www.hunterart.com.
About Michelle Hunter
Michelle Hunter is an artist based in New York, New York. She is an alumnus of the Fiorello H. LaGuardia High School of Music and Art; New York University, Leonard N. Stern School of Business where she earned her Bachelors of Science in marketing and management; and Baruch College, Zicklin School of Business, New York, NY where she earned her Masters of Science in marketing research.
Press Contact
Name: Michelle Hunter

Phone: 646-504-5034

Email: info@hunterart.com

Website: www.hunterart.com
Original Press Release.