Is Bitcoin the New Go-To Inflation Hedge Over Gold?
October 22, 2021 at 13:34 PM EDT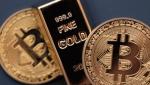 Bitcoin has had quite a week with the debut of an ETF and a new all-time high, but is gold ready to give up its crown as the ideal inflation hedge to the leading digital currency? The comparisons between the two have been ongoing as bitcoin continues to gain more acceptance in the traditional...