Will Rising Inflation in Japan Fuel This Bullish Dollar ETF?
October 18, 2021 at 12:19 PM EDT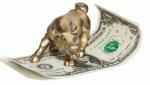 Inflationary pressures in Japan could be a harbinger of what's to come for the rest of the world, which could support the case for more bullishness for the U.S. dollar. "Japan's inflation expectations have now increased to the highest level in three years," said Giles Coghlan,...