Is A Move to the Upside ahead for Gold Prices?
August 04, 2021 at 06:00 AM EDT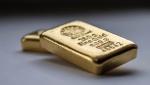 Investor fears brought on by the Covid-19 Delta variant are leading to a safe-haven scramble to bonds, which pushed gold higher during Monday's trading session—a possible sign of more upside ahead. Gold prices moved closer to their 200-day moving average for gold prices, which could indicate...