New Android and iOS MobiCam BABY app makes it easy to play lullabies or white noise in your baby's room without adding another device.
(PRUnderground) April 3rd, 2019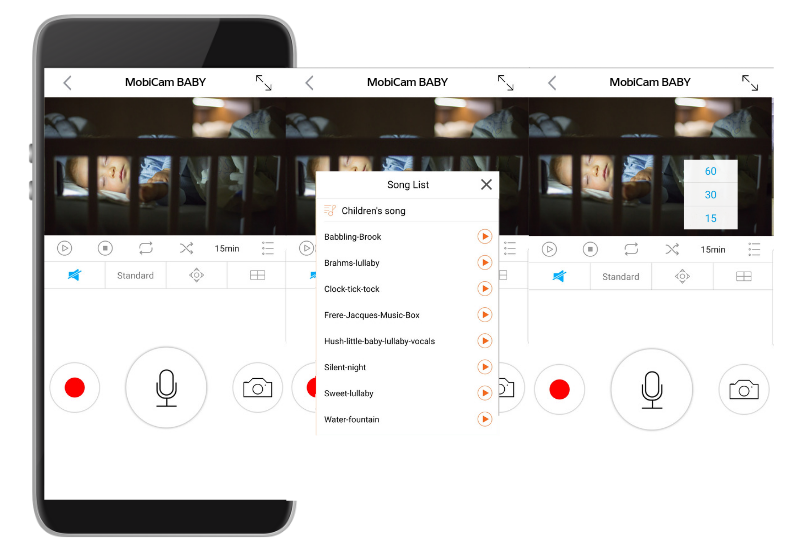 MobiCam Monitoring Systems just got better with a new Android and iOS app that adds noise tracks and lullabies to the brand's popular talkback feature. Already an affordable and respected choice of wifi baby monitors, these feature-rich cameras are now more useful to parents than ever before.
The new app, called MobiCam BABY and available in both the Google Play Store and the Apple App Store, brings useful new functionality to the many innovative and parent-focused features already available from the MobiCam Multi-Purpose Monitoring System and the MobiCam HDX HD WiFi Pan & Tilt Monitoring System.
With the MobiCam BABY app, parents can now play, pause, shuffle and repeat 10 pre-programmed tracks designed to soothe and entertain babies through the speaker of the MobiCam in the baby's room. Select from 5 white noise tracks or 5 lullabies. Set a timer for 15, 30 or 60 minutes – however long it takes your baby to fall asleep or calm down.
"Technology these days is more amazing than ever, allowing us to add genuinely useful functionality to our existing wifi monitors for baby without changing the devices," said MOBI CEO David Naghi. "Through an innovative new app, we can bring parent-requested white noise and soothing lullabies to babies' rooms while not compromising the monitoring features on which these products have built their strong reputation."
MobiCam products already feature talkback functionality that allows parents or other authorized users to talk back to the baby or someone else in the room. And since the system can accommodate multiple cameras, it's possible to talk to the babysitter in one room while not disturbing the baby asleep in another.
"We've said from the beginning that MobiCam cameras are designed with parents in mind. With the introduction of the MobiCam BABY app, we're providing more than ever before to parents who want to use their wifi video monitors so they can participate in parenting even when they can't be there themselves," Naghi said.
You can depend on MOBI for wifi baby monitors just as you trust the company for digital health thermometers and more. Look for the MobiCam BABY app on your app store.
Based in Beverly Hills and founded in 2003, MOBI makes functional and innovative products that parents and other consumers can trust for quality and reliability.
About MOBI Technologies
MOBI Technologies, Inc. is dedicated to build innovative and quality consumer electronics that are designed around the needs of individual users with relevance to modern living. MOBI has been creating products for over 15 years including thermometers, baby monitors, nightlights, and blood pressure monitors. Lead by founder and CEO David Naghi, who has more than 35 years' experience in the consumer electronics industry, MOBI is committed to bringing products to the marketplace that give you and your family better, smarter choices. For more information, please see www.getmobi.com
Press Contact
Name: Jasmine Esrey

Phone: 323-904-3000

Email: jasmine.esrey@getmobi.com

Website: www.getmobi.com
Original Press Release.