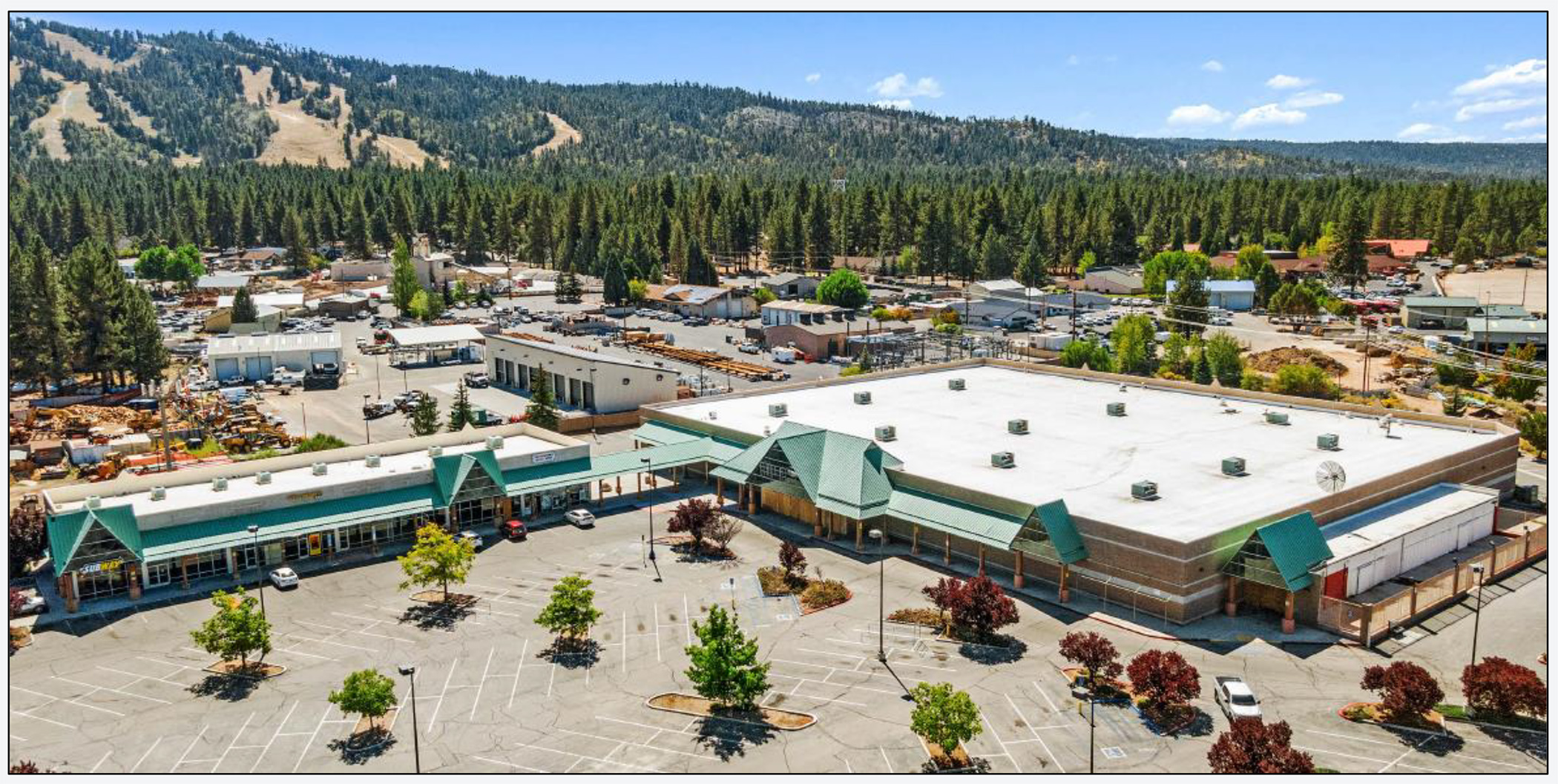 BIG BEAR LAKE, Calif. — Wood Investments Companies, Inc., a fully-integrated commercial real estate investment company specializing in retail, announced today the acquisition of a former Kmart building on 7.49 acres in Big Bear Lake, California, Southern California's popular mountain resort community and destination. Big Bear Lake is home to over three million annual visitors who come to enjoy fishing, snowboarding, skiing, hiking and mountain biking. Wood Investments plans to develop an 80,800-square-foot grocery-anchored shopping center.
"Wood Investments has been looking for an investment property in Big Bear for close to four years with specific tenants in mind," said Patrick Wood, CEO and president of Wood Investments Companies. "As soon as the former Kmart property became available, we took the opportunity. We are excited to be part of such a great community with such a great history and a great future and look forward to creating a shopping experience that visitors and the entire community can enjoy."
The new development, Big Bear Lake Shopping Center, is located at 42126 Big Bear Blvd. at the southwest corner of Big Bear Blvd. and Fox Farm Road in San Bernardino County. Wood Investments purchased the property for $6.5 million in late December 2022, with plans to subdivide the former Kmart building into three individual anchor suites. The building will house a new Grocery Outlet (17,193 square feet), a soft goods retailer, which has signed a lease for 23,228 square feet, and a third tenant, which is currently in lease negotiations for approximately 25,000 square feet. Wood Investments expects to commence construction in the fourth quarter of 2023 and open in March 2024.
The former Kmart building was built in 1992 and has sat vacant since early 2021.
Big Bear Lake is located in the heart of Southern California in the San Bernardino National Forest, 100 miles northeast of Los Angeles and an easy drive from Phoenix and Las Vegas. Altitudes range from 6,750 to 9,000 feet and the valley enjoys 300+ days of sunshine each year.
The area is home to bald eagles, bears, mountain lions, bobcats, coyotes, deer and more, plus about 29 species of protected rare plants, some indigenous to the area. Big Bear Lake is a manmade, fresh-water lake seven miles long and a half-mile wide; maximum depth reaches 72 feet and the shoreline spans over 22 miles. Big Bear is home to one of the nation's few solar observatories and alpine zoos for injured wildlife.
Big Bear specializes in outdoor recreation, like fishing, water sports, hiking, biking, horseback riding, and winter sports. A nine-hole golf course, seven public campgrounds, restaurants, entertainment and shopping offer an experience for everyone to enjoy. The Big Bear City Airport is open 24/7 and is equipped for night landings.
"Big Bear is a year-round destination with a high barrier of entry, which has been underserved," noted Wood. "We look forward to the completion of the new Big Bear Lake Shopping Center in March 2024."
Charley Simpson of Colliers International represented Wood Investments Companies in the sale transaction. Nick Wirick, Chris Beauchamp and Miranda Montgomery with Lee & Associates in Riverside are handling the leasing of Big Bear Lake Shopping Center.
According to Wood, Wood Investments Companies continues to look for well-located value-add development opportunities in the Western U.S. where the company can incorporate its design and tenant influence to create new grocery-anchored neighborhood shopping centers.
About Wood Investments Companies, Inc.
Wood Investments Companies (WICo) is headquartered in Newport Beach, California, and operated and managed by Patrick Wood with the WICo team consisting of partners Matthew Bush and Jeff Hopkins. WICo is a privately held commercial real estate investment firm that acquires, owns, operates and develops commercial retail and housing properties with a focus on value-add development and investments located throughout the Western United States. The company and its affiliated companies have over 40 years of combined experience and success in the commercial real estate industry. 
Media Contact
Company Name: Wood Investments Companies
Contact Person: Patrick Wood, President/CEO
Email: Send Email
Phone: 657.247.2600 ext. 304
Address:14 Corporate Plaza Suite 120
City: Newport Beach
State: California
Country: United States
Website: www.linkedin.com/company/wood-investments-companies-inc/