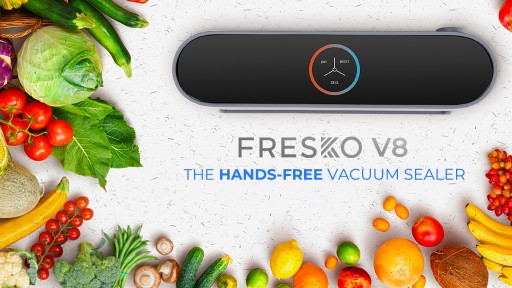 WALNUT, Calif. - August 11, 2020 - (
Newswire.com
)
Today, FRESKO announced the launch of a revolutionary modern food vacuum sealer that extends the freshness of food, reduces waste and locks in taste. This simple, fast vacuum sealer adds convenience to kitchens at an affordable price. Available now on Kickstarter: https://www.kickstarter.com/projects/1925339285/fresko-the-affordable-and-intelligent-5-in-1-food-sealer
In the United States alone, up to 40% of the food used goes to waste. This is mostly due to improper storage. The new 5-in-1 vacuum sealer from FRESKO is the first intelligent food storage system that helps food stay fresh up to five times as long. It prevents waste, saves costs, and adds convenience to cooking.
Vacuum sealing works on virtually any food and extends its freshness. Although vacuum sealing is not a new concept, the FRESKO V8 eliminates the multiple manual operations necessary with typical vacuum sealing devices. Users simply fill a vacuum bag, insert into the machine and press a single button. It makes food storage fast and easy and only requires five seconds between sealing jobs, much faster than previous vacuum sealers.
"Our approach to creating innovative products for modern life takes sustainability into account. Every day, an incredible amount of food goes to waste, mostly due to ineffective storage. Vacuum sealers are a proven method to store food longer, keep it fresh and lock in taste, but the old generation of vacuum sealers were difficult to use and very expensive. We know that many in our generation care about conservation, and if we could make a vacuum appliance that was stylish, easy to use and effective, younger consumers would be happy to take advantage of the cost savings and convenience of vacuum-sealed foods. FRESKO V8 is the realization of that vision." -Frank Su, Co-founder 
Unlike other sealers that require proprietary bags or containers, the FRESKO V8 works with any vacuum bag and is compatible with all types of vacuum seal food containers, using its external vacuum attachment. It even extends the life of wine by preventing oxidation. FRESKO doesn't look like other vacuum sealers either. Its sleek modern lines and minimalist style fits any kitchen style, and its small footprint won't take up too much valuable countertop space.
Fresher food encourages healthy cooking and simply tastes better. For anyone concerned about food waste and keeping food fresh longer, the FRESKO is a smart addition to the kitchen. The FRESKO V8 food vacuum sealer is available now with special pricing and incentives for early adopters. To learn more visit the campaign here: https://www.kickstarter.com/projects/1925339285/fresko-the-affordable-and-intelligent-5-in-1-food-sealer
Media Contact: 
hello@freskoshop.com
Press Release Service by
Newswire.com
Original Source:
FRESKO V8 - the Affordable and Intelligent 5-in-1 Food Sealer - Announces Launch