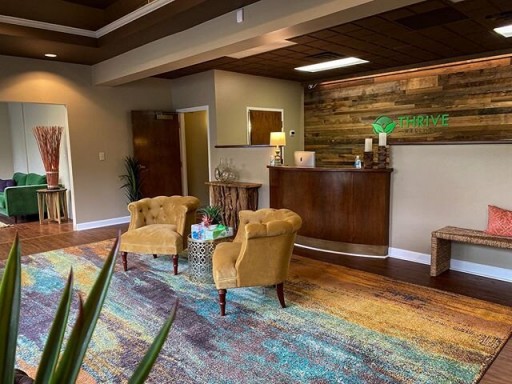 BRENTWOOD, Tenn. - August 11, 2020 - (
Newswire.com
)
Thrive Wellness Groups today announced the grand opening of their new clinic in Brentwood, Tennessee. Founder and Chief Medical Officer Dr. Glen Blaschke has a heart to not only heal his clients physically, but to make sure they are healthy mentally as well.
He has treated over 22,000 patients throughout his career with ketamine, which is one of his primary focuses at Thrive Wellness. Dr. Blaschke believes in evidence-based medicine and his protocols are always backed by research and results.
Thrive Wellness Groups is dedicated to empowering individuals with an improved quality of life and wellbeing through comprehensive and compassionate care. They offer innovative infusions such as ketamine therapy, IV vitamin infusions, and NAD+ therapy.
Intravenous Ketamine has been called the biggest breakthrough in the treatment of mood and pain disorders in decades. Thrive Wellness utilizes the powerful effects of ketamine to treat conditions such as depression, post-traumatic stress disorder (PTSD), obsessive-compulsive disorder (OCD), severe anxiety, bipolar disorder, and migraines.
The clinic also treats chronic pain conditions such as fibromyalgia, complex regional pain syndrome (CRPS), or reflex sympathetic dystrophy (RSD), and many other painful neuropathies.
IV vitamin therapy provides direct absorption of vitamins and minerals, which are utilized more effectively than when taking vitamins orally. Preventative medicine like IV vitamin therapy has become increasingly popular for individuals who want to take a proactive approach to their health and increase natural immunity.
IV NAD+ (Nicotinamide Adenine Dinucleotide) Supplementation has been associated with life longevity and anti-aging benefits. NAD+ is a potent coenzyme found in every single cell in the body. As we age, NAD+ levels naturally decrease within the body. Additional environmental stressors such as (addiction stress & illness) can accelerate the rate of NAD+ depletion.
About Thrive Wellness Groups: Our vision is to become the gold standard of care and the provider of choice in your wellness journey by bringing the caring and compassionate transformation of our services to you, as the premier wellness provider in Brentwood, TN, and surrounding cities. The future of healing and hope is now.
Thrive Wellness Groups
540O Maryland Way Ste 100
Brentwood, TN 37027
https://thrivewellnessgroups.com/
Related Links
Ketamine Treatment In Nashville
Related Files
Thrive Wellness Groups_ LOGO.png
Press Release Service by
Newswire.com
Original Source:
Thrive Wellness Group Announces Grand Opening for New Clinic in Brentwood, Tennessee