Tau Pi Omega Chapter of Alpha Kappa Alpha Sorority Incorporated will host a virtual ribbon-cutting ceremony on Saturday, July 25, 2020, from 1 p.m.-2 p.m. The mural is located at 7268 Center Street, Lithonia, GA, 30058. To honor the guidelines of social distancing, you are invited to drive by and view the mural from your vehicle. Live on Facebook.com/AKATauPiOmega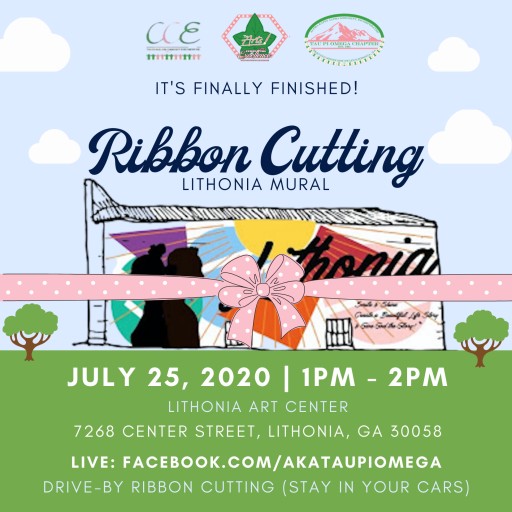 LITHONIA, Ga. - July 22, 2020 - (
Newswire.com
)
The "Rise and Thrive" Lithonia mural originally kicked off with a bang on MLK Day 2020. Hundreds of volunteers poured into the small town to help clean the city and paint the mural. 
Aidra N. Martin, Chapter President of Tau Pi Omega and President of Council for Community Enrichment, is happy to have played a major role in the completion of this artistic landmark. "I am truly excited that the mural has been completed.  When Tau Pi Omega and the Council for Community Enrichment, Inc. agreed to fund this project, we did so out of our desire to beautify our community as well as to support The Arts, one of Alpha Kappa Alpha's current targets in its International Program.  Through this target, Alpha Kappa Alpha's intent is to salute the Black Arts Movement through the celebration of African American art. This mural, created by a black female artist, and painted by our own community as a service project during the MLK weekend, embodies Target IV of Alpha Kappa Alpha's 2018 to 2022 International Program," said Martin. 
Painted by "Hey Brown Girl You're Beautiful" artist Faatimah Stevens, the mural serves as a beacon of hope to residents, neighbors, and visitors of the city. "This was a joint effort; we collaborated with community volunteers and supporters to bring the mural to life for Lithonia," remarked Stevens.
Saritha Harden, Arts Chair for Tau Pi Omega, expressed her gratitude: "The completion of the mural represents a visual commitment to The Arts within the Lithonia Community for Alpha Kappa Alpha Sorority, Inc., Tau Pi Omega Chapter and its Foundation, The Council for Community Enrichment, Inc."
A Record of Supporting Local Arts
Tau Pi Omega and the Council for Community Enrichment (CCE) have played pivotal roles in uplifting the arts in DeKalb County & Metro Atlanta. Several of their initiatives are as follows: 
1.       Teen Poetry Competition held at Decatur Library. High school and middle school students from across Metro Atlanta submitted original compositions based on the theme "We Stand on Their Shoulders." Monetary prizes were given to the first and second place winners.
2.       Artist Showcase where various artists were able to present their talents to the public. Artists presented the spoken word, drawings, musical talents, mime, liturgical dance and a host of other artistic expressions. This free event brought many out to enjoy the various talents of the community.
3.       Led efforts for the Harlem Renaissance traveling museum to come to Atlanta.  This was a collaboration with the 14 other Metro Atlanta Chapters of Alpha Kappa Alpha Sorority, Inc.
4.       On Martin Luther King Jr's Day of Service 2020, Tau Pi Omega and CCE funded and volunteered in the painting of a mural at the Lithonia Arts Center in the heart of downtown Lithonia. Over 150 volunteers came out to support this effort. 
___________
Tau Pi Omega is supported by its foundation (501c3) entity, The Council for Community Enrichment, Inc. (CCE).
About Tau Pi Omega
Visit: http://www.akataupiomega.com/
About Council for Community Enrichment
Visit: https://ccega.celect.org
___________
Press Contacts
Cindy Thomas
Willpower South - Consulting & Branding Agency
Aidra N. Martin
P.O. Box 1024, Stone Mountain, GA  30086
Related Links
Tau Pi Omega, Alpha Kappa Alpha
Council for Community Enrichment
Related Files
Tau Pi Omega AKA Arts MLK Day 2020.jpg
Lithonia Mural.jpg
Press Release Service by
Newswire.com
Original Source:
Local AKA Chapter to Unveil Lithonia Mural at Upcoming Ribbon Cutting