Small-batch craft spirit producer Pura Vida Tequila recently went live with a brand-new website designed to ease ordering and to optimize engagement with their viewers.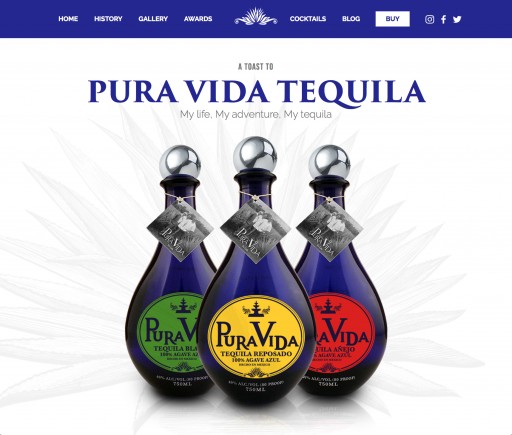 HOUSTON - June 9, 2020 - (
Newswire.com
)
​​Tequila lovers have some good news to celebrate because Houston-based spirit producers Pura Vida Tequila just launched their new website, https://www.puravidatequila.com
The new site features interactive cocktail content, industry-specific blogs, the history of the Pura Vida brand, optimal online ordering and delivery services, and more. 
"Everything about this website was designed to tell a story," says Pura Vida Tequila Founder and Chairman Stewart Skloss. "We wanted to include the origin of the brand, which dates back to 1923, and take the user through to the present day with pictures, recipes, and insight into what the Pura Vida lifestyle means today."
Putting the product front and center, the site offers total transparency about how the tequila is made and includes photos of the actual distillery and agave fields in Mazamitla, Mexico. It also expounds on the production process and flavor, aroma, and finish profiles of each of their tequila lines—Blanco, Reposado, Añejo, and Extra Añejo.
"Whether new to tequila or an aficionado, we hope this site is informative about our brand specifically and tequila in general," says Skloss. "We're especially excited about our cocktail recipe section, which we'll be updating monthly with our favorite drinks. Be on the lookout for featured cocktails in our Blanco, Reposado, and Añejo lines."
Integrating with their social media presence, the photo gallery on the new site illustrates the brand's fun, vibrant, active lifestyle. Pura Vida can be found on Instagram, Facebook, and Twitter. Look for the #MyLife, #MyAdventure, and #MyTequila hashtags.
Finding and buying Pura Vida tequila is also easier than ever on the new site. You can order the spirit online via ReserveBar, get same-day delivery in select states through Drizly or Instacart, or use the locator function to find the nearest place to purchase Pura Vida. 
For those who are interested in learning more about the Pura Vida brand and keeping up to date with their announcements, sign up for their monthly newsletter on the site.
"We wanted to make a website that was both innovative and easy to navigate for the optimal user experience," says Skloss. "We are so excited to start heading in this new direction for the Pura Vida brand, and we hope you all are enjoying the ride with us!"
Pura Vida Tequila is a Houston-based producer and owner of several premium Mexican spirits, including their Blanco, Reposado, Añejo, and Extra Añejolines. The company, which officially launched in 2011, produces ultra-premium, triple-distilled, 100 percent blue weber agave tequila.
###
If you would like more information about Pura Vida Tequila, please visit the new company site or contact Founder and Chairman Stewart Skloss at (646) 249-1446 - or sskloss@frontierspirits.com.
Press Release Service by
Newswire.com
Original Source:
Pura Vida Tequila Debuts New Website to Optimize User Experience