Constellix expands its global footprint by expanding in Brazil, Chile and Colombia in partnership with EdgeUno.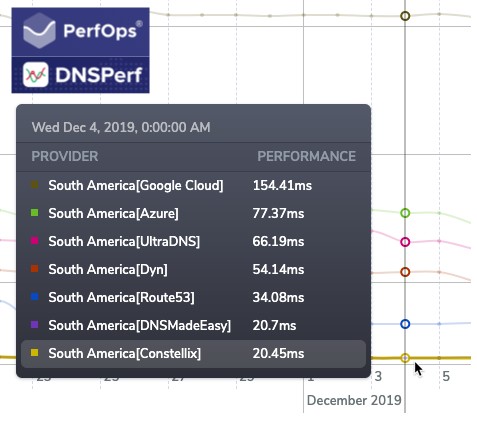 RESTON, Va. - December 9, 2019 - (
Newswire.com
)
​​​Constellix, a leading DNS management and monitoring services company, announced today that it has partnered with EdgeUno, Latin America infrastructure as a service and managed cloud service provider.
Constellix uses machine learning and real-time data to route its DNS users to the best available resource, creating lower latency, improved delivery accuracy and less downtime. The company also provides DNS monitoring services to protect their clients' data and access to the internet. By selecting EdgeUno as its turnkey Infrastructure as a service provider, Constellix has enabled its services in Brazil, Colombia and Chile to serve Latin American customers better in record time.
"We are thrilled to be able to make this happen for our clients, and our future clients," says Constellix President, Steven Job. "By partnering with EdgeUno to expand our offerings in Latin America, we are able to offer clients looking for top-of-the-line DNS services the management and monitoring that they need to provide fast, reliable data to their users."
"This deployment was not only important for existing customers of Constellix but also future ones across the world," says EdgeUno CEO Mehmet Akcin. "There are lots of other partnership opportunities present with Constellix in LATAM Market, we are also moving our DNS services to Constellix platform and offering these DNS services to all our customers across the region creating a win-win situation for both parties involved."
"By expanding the infrastructure in South America this will allow us to keep offering the highest DNS uptime and fastest speeds in the industry," Job said. "Tiggee takes great pride in owning everything from layer 1 to layer 7 in our DNS services. According to DNSPerf, Constellix is now significantly faster in South America compared to Google Cloud, Microsoft Azure, UltraDNS, Amazon Route53, and Oracle Dyn."
Mehmet Akcin is available for media interviews regarding EdgeUno's aim to expand the edge computing industry in Latin America and around the world. To schedule an interview, contact him at mehmet@edgeuno.com.
About Constellix: 
Constellix is on a mission to make multi-cloud and multi-CDN management easier using intelligent traffic routing services. This makes the internet safer and more reliable.
Constellix takes the best of DNS Made Easy's network and functionality and then offers opportunities for users to expand on that foundation; like our intelligent routing services that can dynamically update users' configurations to better handle current network conditions. More information can be found at www.constellix.com. 
About EdgeUno: 
Co-founded in Silicon Valley by former Microsoft, Yahoo! and Terremark executives, EdgeUno provides unparalleled Infrastructure as a Service and managed cloud services focused in Latin America. EdgeUno entered the market in 2019 by acquiring major Colombian service provider RedUno with the goal of making it simpler to deploy and operate infrastructure across Latin America. EdgeUno has recently expanded its footprint to Brazil, Argentina and Chile. More information can be found at www.edgeuno.com.
Related Links
Constellix
EdgeUno
Press Release Service by
Newswire.com
Original Source:
Constellix Expands Infrastructure Into Latin America