Versatile MobiCam monitoring system covers everything around your house – and will soon improve with digital pan and tilt.
Beverly Hills, CA (PRUnderground) July 10th, 2018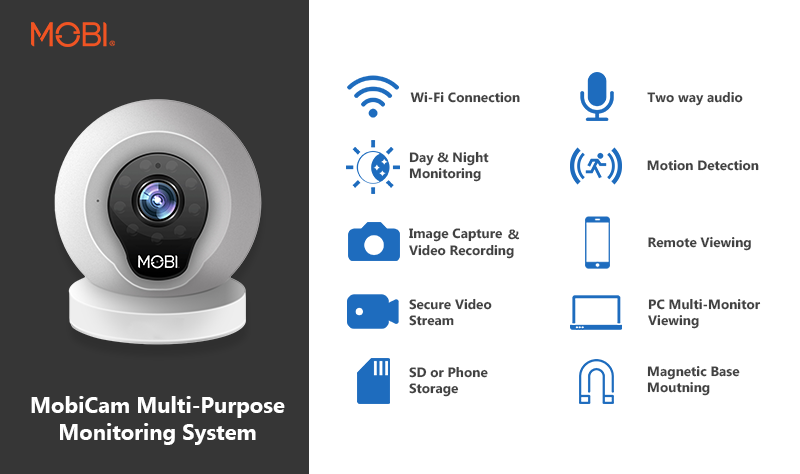 From the affordable price, to easy installation and on the-go viewing, choosing MobiCam Multi-Purpose Monitoring System has been a no brainer for consumers. In need of a home monitoring system, a baby monitor or simply to keep an eye on your elderly loved ones or family pets while off at work, MobiCam allows users to monitor from any location, at any time using their apple or android app.
MobiCam may be small in size but is feature rich, proving to be the ultimate value purchase. Offering smooth HD video streaming and night vision of up to 40 feet, MobiCam is perfect for monitoring your child through the night. Using the MobiCam App available on both the Google Play Store and Apple's App Store, offers even more features. The App will allow you to use two-way audio, a whole new way of communicating with your loved ones while away. Take snapshots or record short video snippets right from your phone, in real time.
If you're using MobiCam for home security, MobiCam offers motion detection alerts and alarms. While you are away from home at work, or perhaps a family vacation, you can have peace of mind knowing your home is safe and secure. An alarm will sound if MobiCam detects any movement while you are away and you will know immediately through an app alert.
Coming soon, MOBI has created new advanced features MobiCam Smart Home Pan & Tilt Monitoring System. Equipped with all the same outstanding feature of the original MobiCam, the newer model will offer 2x digital zoom, the ability to direct the view of your camera lens from left to right, as well as up and down, using your MobiCam app and can have an expanded memory of up to 64GB (MicroSd card sold separately).
MOBI is a trusted name in consumer monitoring products, including a line of digital thermometers. The company is actively seeking retail distribution channels for the affordable, feature-rich MobiCam Multi-Purpose Monitoring System and the upcoming pan-and-tilt version. Contact MOBI to offer these products in your bricks-and-mortar or online store.
Founded in 2003, MOBI makes innovative and useful home products. Its line of stylish, functional products are made to look great and exceed expectations. Based in Beverly Hills, MOBI fills consumer needs with affordable and helpful products consumers love.
About MOBI Technologies
Press Contact
Name: Lizzie Gurrola

Phone: 323-904-3014

Email: lizzie.gurrola@getmobi.com

Website: www.getmobi.com
Original Press Release.