MOBI DualScan digital thermometers are the easiest and simplest way to monitor flu symptoms. Order two of the best-selling models online or purchase at an ever-expanding array of major retailers.
Beverly Hills, CA (PRUnderground) February 15th, 2018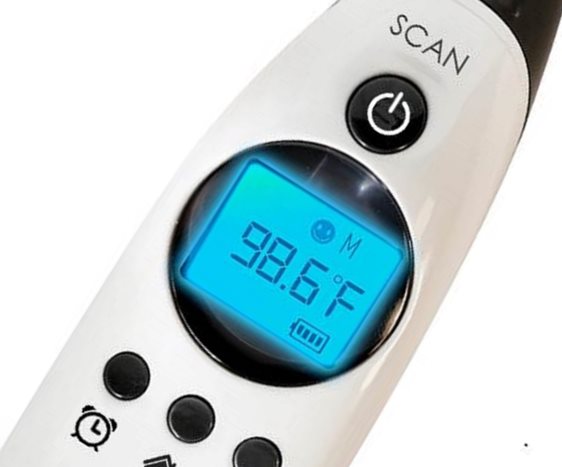 Consumers who don't already own a modern digital thermometer may find this a smart time to purchase one such as the MOBI DualScan thermometers. Recent releases from the Centers for Disease Control and Prevention call this one of the worst flu seasons on record – so bad that some health professionals are declaring a flu emergency. Patient with the flu or who think they may have it should avoid contact with the public while symptoms, including fever, are present, experts recommend.
But monitoring a fever regularly at home is impossible without the right tool. Today, that means having an up-to-date digital thermometer. The MOBI DualScan Health Check Ear and Forehead Thermometer offers 1-second readings and features a large screen, ergonomic design, patented Medication Reminder that reminds you to regularly take medications or temperature, built-in flashlight, color-changing Diagnostic Fever Indicator and 19-reading memory log. It is a tool that is useful at any bedside. Available now at various retailers for under $24.95
Consumers with difficulty reading even the largest displays may prefer the MOBI DualScan Talking Ear and Forehead Thermometer, which can speak temperature readings in 3 languages and also includes a flashlight and memory recall. Available now at various retailers for under $28.95
"Whether you have the flu and or monitoring your temperature to make sure you aren't showing early symptoms of this potentially deadly condition, knowing your temperature is essential to better health during flu season," said MOBI CEO David Naghi. "Our trusted brand of DualScan thermometers designed to monitor health statistics and keep consumers safe and healthy, no matter the season. We're pleased to offer several user-friendly devices that are carefully designed with every kind of consumer from infants to adults in mind."
MOBI products, including these digital health thermometers, are available instore and online from major retailers including Target, Toys R Us, Walmart.com, Groupon.com and other respected sources.
Founded in 2003, MOBI provides simple to use and reliable health monitoring products consumer can rely on to be useful, dependable, innovative and modern. These digital thermometers are part of its line of carefully designed, feature-rich health products. Based in Beverly Hills, California, the company fills unmet consumer needs with well-made products designed to be the best in their category.
Contact:
CONTACT NAME: Kiumars Haziq
TITLE: Operations Manager
323-904-3007
MOBI Inc.
8370 Wilshire Blvd, Suite 210
Beverly Hills, California 90211
About MOBI Technologies
Press Contact
Name: Kiumars Haziq

Phone: 323-904-3000

Email: kiumarsh@getmobi.com

Website: www.productsbymobi.com
Original Press Release.